The sun is shining. That smokey, charcoal aroma is filling the backyard air. There are few things that more perfectly evoke summer vibes than a barbecue. While burgers and hot dogs are the easy staples, you might be missing out on the true BBQ king: seafood. Shellfish in particular bursts with flavor when cooked on the grill.
If you haven't tried grilling lobster or crab before, no problem. These easy and delicious Memorial Day grilled seafood recipes are the perfect places to start. Let's order some seafood and dive into these delicious Memorial Day grilled seafood recipes.
Memorial Day Grilled Seafood Recipes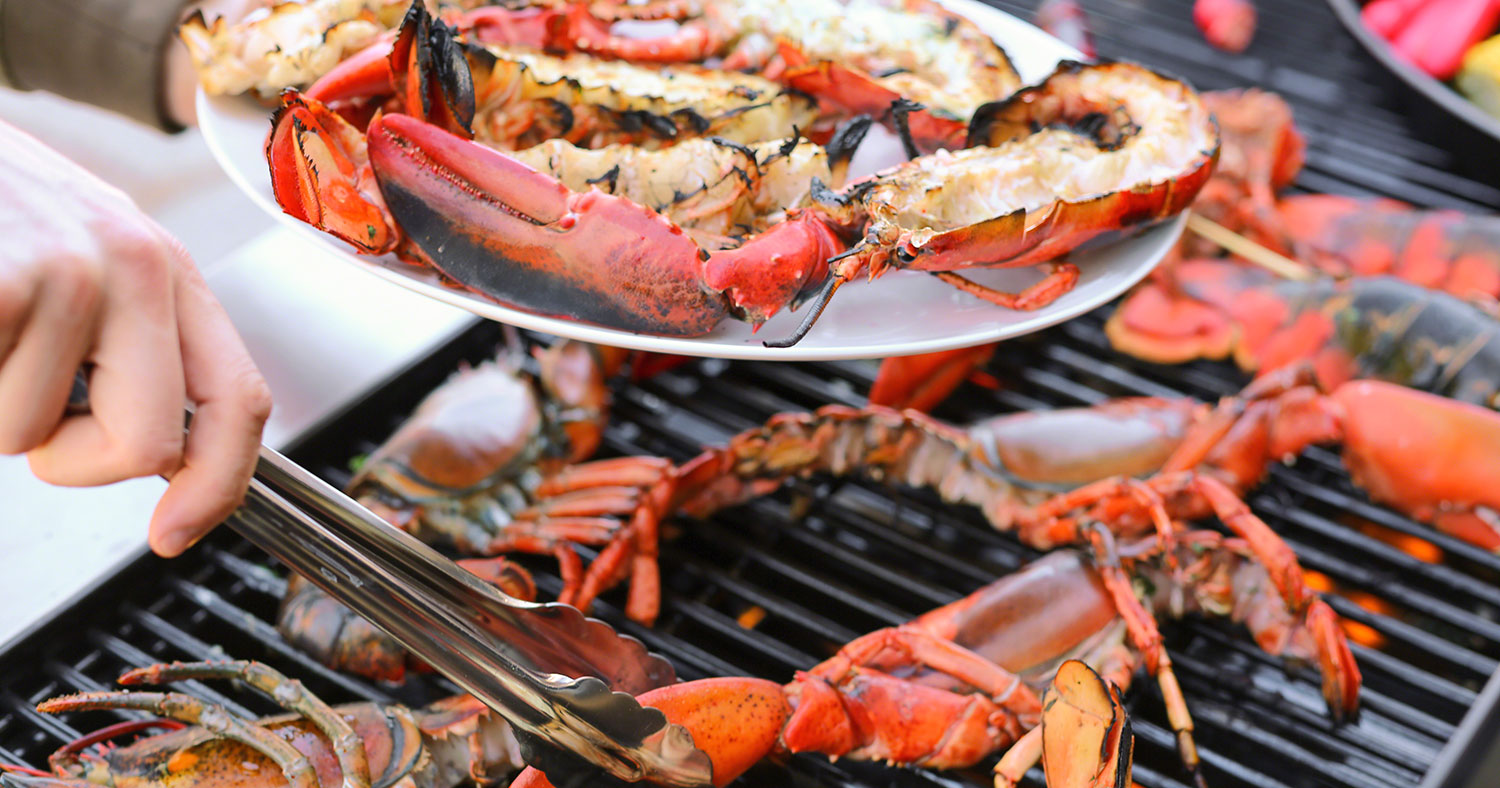 Before we get to the recipes, many may just be looking for something easy to barbecue on their day off work. If you're firing up the grill for some burgers and dogs, you can't go wrong with adding grilled lobster, crab legs, or mussels served with a side of fresh lemon and melted butter. Take a look at our selection of live Maine lobster as well as lobster tails, crab legs, and mussels. If you're not sure how to grill seafood, take a look at our how-to guides.
Simple Grilling Tips:
Low Country Boil Done on the Grill
Our first recipe provides single-serving main courses that are incredibly easy to clean up. If you don't prefer shrimp, you can easily customize this recipe to incorporate any seafood favorite. Throw in some crab legs or lobster tails and you'll get the same delicious result. Don't forget to include fresh summer corn from Maine and classic red hot dogs too.
Steak and Lobster with Chimichurri Sauce

Photo and Recipe by Half Baked Harvest
This seafood grilling recipe is a little more formal and ideal for a smaller Memorial Day gathering. The best part is that it incorporates another summer favorite: rib-eye steak. You'll get to serve your guests a mouthwatering surf n' turf seafood feast that they won't soon forget. Our lobster tails pair perfectly with our boneless black Angus rib-eye steaks.
Lobster Burgers

Photo and Recipe by Half Baked Harvest
This recipe is a fun take on another summer classic: the hamburger. Juicy chunks of our Maine lobster meat served on a toasted bun with fresh avocado, corn, and a creamy browned-butter, lemon aioli will get your guests excited. Serve it up with a side of grilled clams and salad.
Grilled Crab Cakes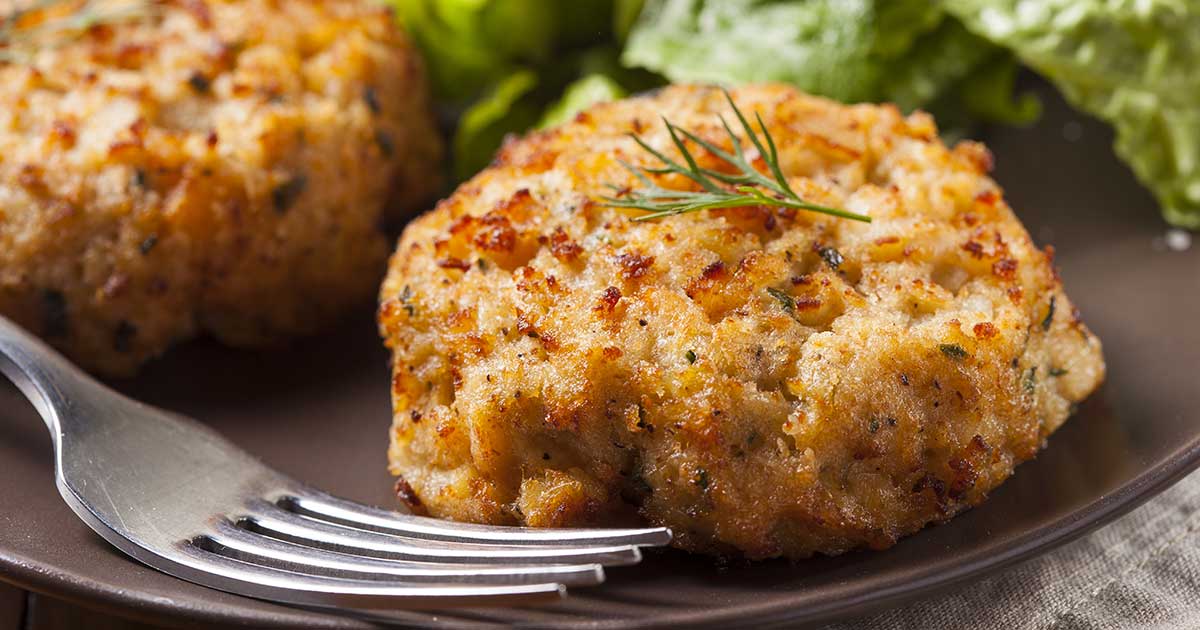 Grilled crab cakes make for a nice side dish, appetizer, or main course. It all depends on the amount you offer, so serve it up alone or alongside some grilled lobster tails. You could try this recipe using our lobster meat or crab meat. Either way, it's going to scintillate the taste buds. We even have some premade Jonah Crab Cakes (pictured) that you can easily throw on the grill if you are short on time. Pair with your favorite cocktail or tartar sauce, and some fresh lemon and you're good to go.
Clams with Horseradish Tabasco Sauce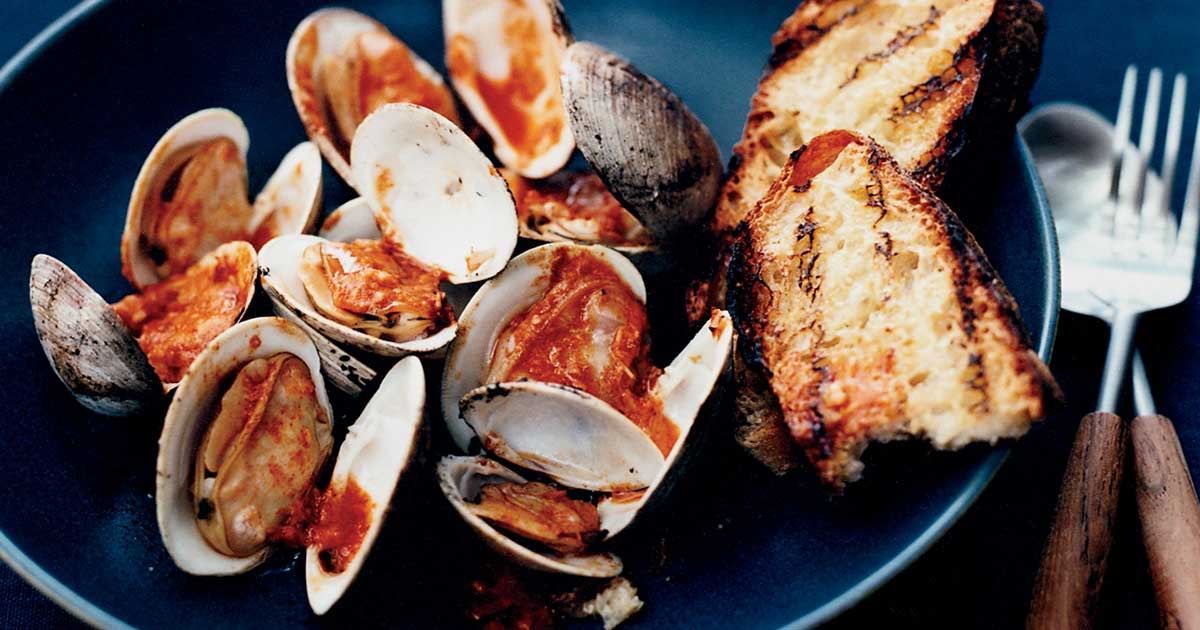 Photo and Recipe by Food & Wine/@Anson Smart
These grilled clams give you the perfect blend of sweet and smokey flavors. The spicy horseradish Tabasco sauce gives the clams a kick of spice. Serving this dish with a side of grilled bread keeps the heat in check. Like the crab cakes, grilled clams also make for an ideal appetizer, side, or main dish. Your choice.
Spring Fiddleheads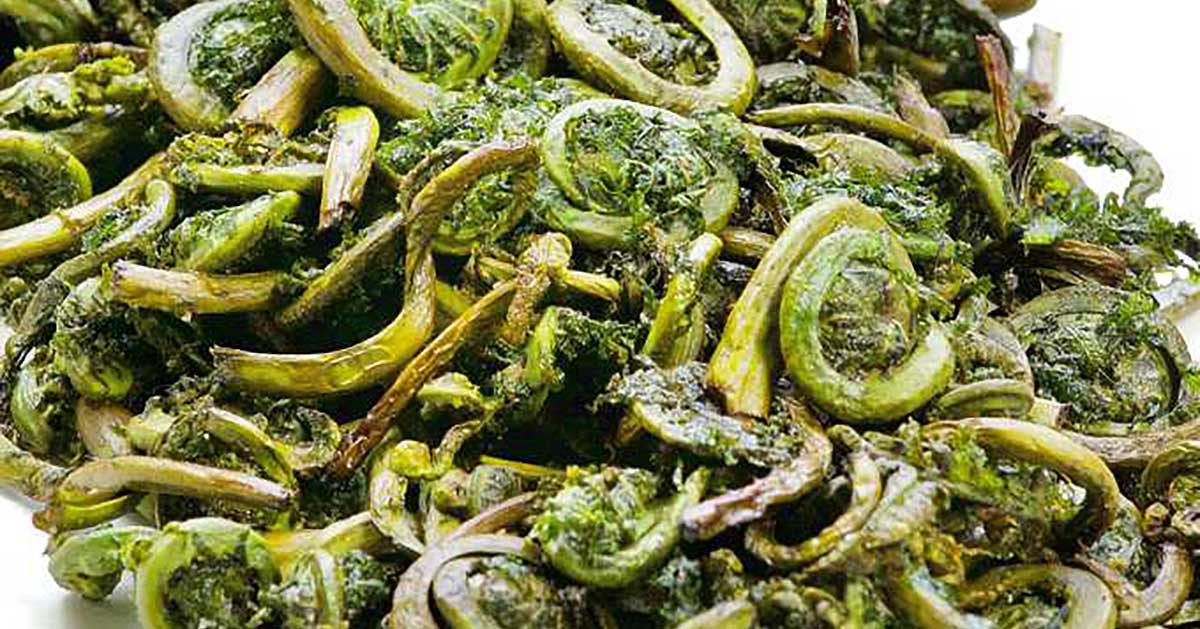 Photo and Recipe by Homemade & Yummy
It's always nice to add a seasonal element to a party menu. Fiddleheads are just the thing for Memorial Day. When grilled and tossed in butter, fiddleheads add a fresh and bright element to a table. Our Maine Fiddleheads are sourced in Maine and, boy, they are delicious (if we do say so ourselves!). Just be sure to follow the cooking directions as outlined.
Sea Scallop Corn Salad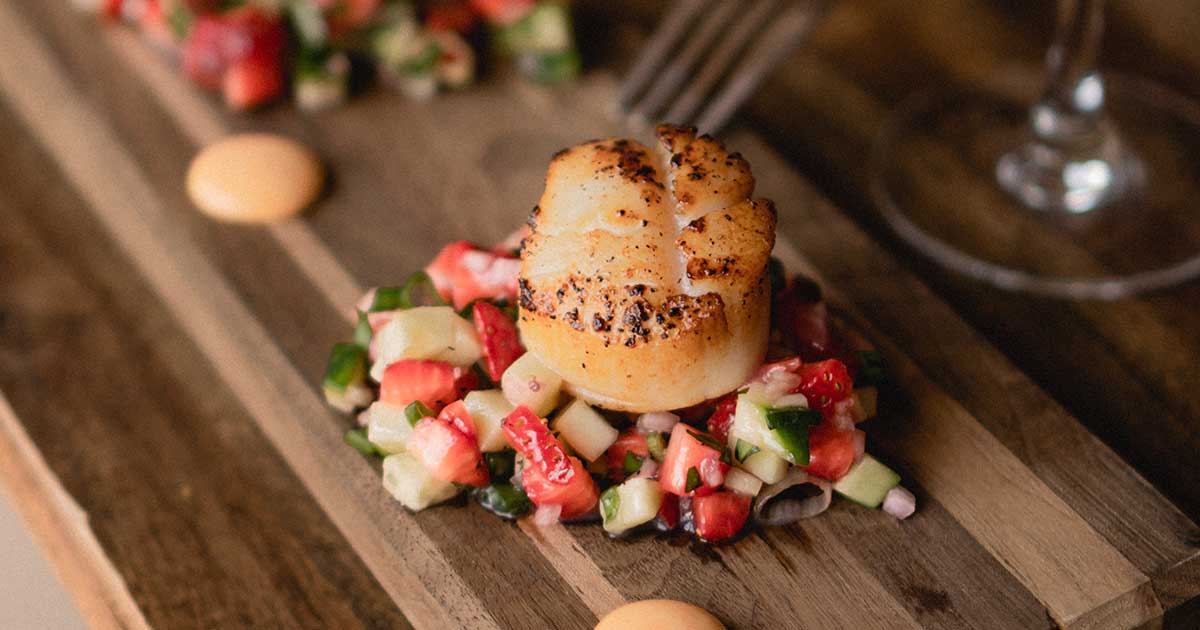 This is another delicious grilled seafood recipe that works well as a side dish. Scallops are rich in flavor and texture, so pair them with fresh vegetables like corn and green onion to make a balanced and delicious salad. You can try this recipe with any of our original fresh scallops, or if you are feeling adventurous you can even throw in our bacon-wrapped scallops for an added punch of flavor.
Make sure to make the day extra memorable with any of these Memorial Day grilled seafood recipes. Need premade appetizers? Our Cocktail Shrimp, Jumbo Jonah Crab Cocktail Claws, and lobster dip make perfect apps to serve alongside any of these recipes. For dessert, you'll hear whoops of happiness with Maine's official state treat, the whoopie pie, and nobody will be blue after chowing down on Maine's official dessert, blueberry pie. Maine Lobster Now offers everything you need to create the perfect Memorial Day menu. Our products are fresh, locally sourced, and delivered right to your door anywhere in the United States.