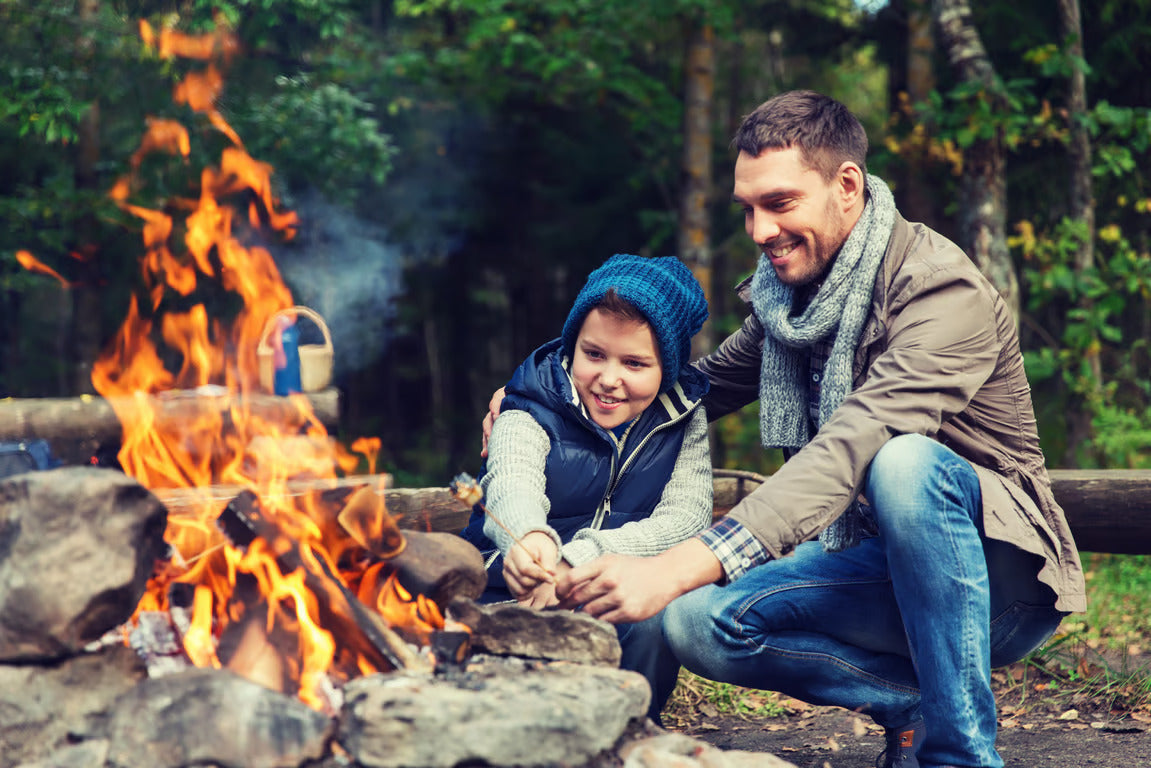 Sleeping under the stars and sharing stories around the campfire are summertime favorites for many of us. It can help us to slow down and enjoy the moment. And, let's face it, there isn't anything quite like a warm weather party outside and cooking with family or friends over an open campfire. These campfire seafood recipes are easy to prepare and made more delicious with some extra heat and smoke.
Campfire Seafood Recipes From Maine Lobster Now
Seafood Foil Packs
A seafood foil pack is just the thing when you don't want dishes to clean. You can make them ahead of time, throw them in the cooler and cook them on the campfire with little attention when you are ready. Even better— there are no dishes to clean up afterwards, so you can get right to making s'mores.
All you need:
One roll of tin foil
knife
cutting board
Now choose your ingredients. These are a few of classic combinations to get your started. Aside from more liquid, you can add more of any ingredient you want or different ingredients— there really is no right or wrong here. Each recipe below makes enough for two foil packs.
Traditional Crab Legs and Sausage
Simple Shrimp and Clams
1/2 pound shrimp
1/2 pound steamer clams
2 tbsp. butter
one lemon quartered
salt (to your liking)
Barbecue Shrimp, Scallops and Chorizo
1/2 pound shrimp
1/2 pound sea scallops
4 sliced Chorizo sausage links
1 sliced avocados (Slice and reserve on the side. Place on top of the meal when the packet is finished cooking.)
1 tsp chili powder
2 tbsp. barbecue sauce
1 tbsp. butter
two limes quartered
Salmon and Mango Salsa
1 tbsp. butter
one lemon quartered
mango salsa (Make ahead of time and reserve. Place it on top of the salmon when the packet is finished cooking.)
Breakfast chilaquiles with lobster
4 corn tortillas cut into wedges
1/4 c. diced onion
2 minced cloves garlic
3 tbsp. tomato paste
1 tsp. cumin
2 tsp. chili powder
1 tbsp. butter
2 eggs (crack one egg per packet on top after all other ingredients have been added and mixed)
1/2 pound of fresh cooked lobster lump meat (keep on the side and add to packets after they are done cooking. Toss with cooked ingredients before eating to heat the meat up).
[caption id="attachment_1069" align="alignnone" width="500"]
Lobster Chilaquiles[/caption] Cooking Instructions:
Tear off four, 1-foot long sheets of aluminum foil. Stack two foil sheets on top of one another per packet (four is enough for two packets).
Chop and prepare the ingredients you wish to include. Divide the ingredients between the two foil packs. Mix the ingredients together, ensuring that the wet ingredients fully coat everything else. Add more if needed. Note that the butter does not need to be melted, just place it on top of everything so it will melt as it is being cooked.
Fold each foil pack in half and close the ends to ensure no ingredients leak out.
Place in the fridge or cooler until you are ready to cook the packs.
When you are ready to cook the foil packs, take them out of the fridge or cooler. Start your fire then close the grilling grate or place a separate grilling grate over the top of the fire pit. Most campground fire rings have an attached grilling grate. You can also purchase one at any sporting goods store. Place the foil packs on top of the grilling grate. Cook on one side for 15 - 20 minutes. Then flip and cook on the other side for 15 - 20 minutes.
Open carefully, allowing too cool. Top with any extra ingredients you would like, then enjoy!
Bonus Campfire Seafood Recipes
These campfire seafood recipes are made without a foil pack. Trust us, they are as easy to make and just as delicious to eat. After all, it can be fun to spice things up and try something different.
Seafood Campfire Paella
Paella blends savory spices, like turmeric and saffron, with decadent seafoods, including shrimp, mussels, clams, or lobster. This dish is warm, slightly spicy, and easy to share with friends as an entree or an appetizer. Get the Recipe
Campfire Grilled Tacos
Who doesn't love a great fish taco? The smokiness from the campfire makes the fish in these tacos even contrast with the heat from the chili powder in the most satisfying way. Cool things down with a side of coleslaw and a bag of Fox Family Potato Chips. Get the Recipe [caption id="attachment_1039" align="alignnone" width="500"]
Photo and recipe from Fresh Off the Grid[/caption]
Grilled Campfire Lobster Tails
This is a classic, and arguably even easier than the foil pack dinners. Just throw the lobster tails on the grill grate, and let it cook. You can even throw some cooked crab legs on the same way for a few minutes to heat up and enjoy as an appetizer. Get the Recipe [caption id="attachment_1040" align="alignnone" width="500"]
Photo and recipe from The Outbound Collective[/caption] We told you, seafood and campfires can go together just like camping and summertime. These campfire seafood recipes will get you well on your way to enjoying delicious meals around the campfire.