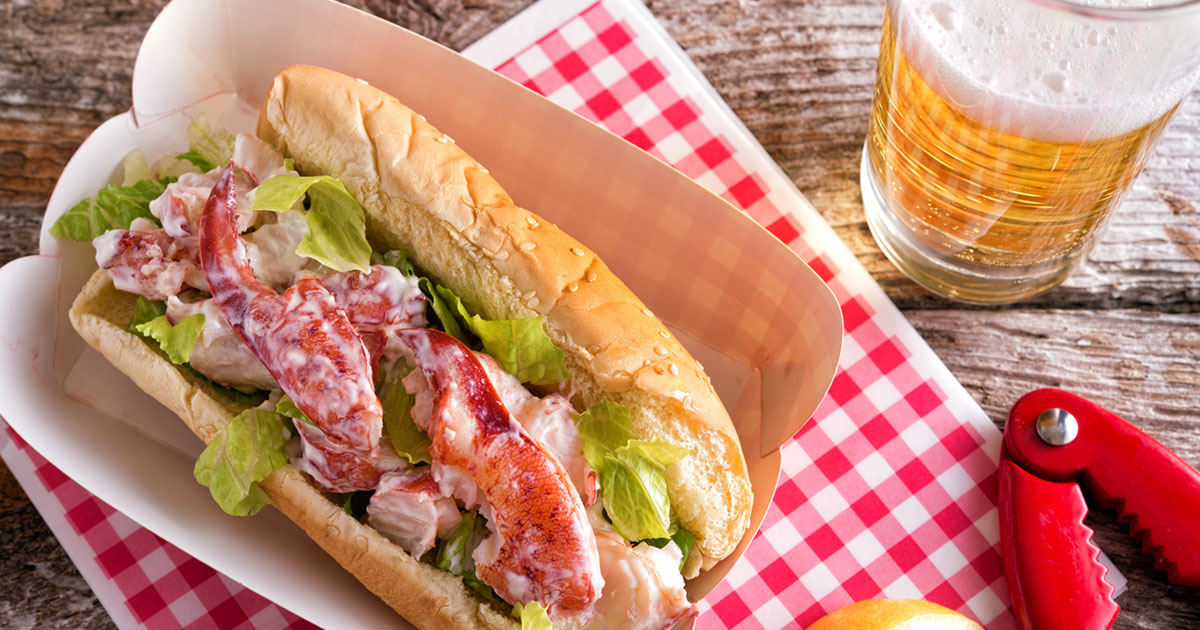 Having the perfect appetizers, side dishes, and desserts to go with your seafood meal is highly important. But just as important is having the right beverage nearby to bring out the full flavor of your seafood. When it comes to seafood, few drinks complement the taste better than a cold, refreshing beer. Below, find everything you need to know about seafood and beer pairings so you can enjoy your next Maine Lobster Now seafood order at its best with just the right brew on the table.
For these seafood and beer pairings, we used our own extensive seafood knowledge as well as the expertise of James Beard Award-winner Hank Shaw, who spoke to HopCulture.com about his favorite pairings. We also have some recommendations from the knowledgeable folks over at Food & Wine. But we'd also love to hear from you. Do you have a beer and seafood pairing many people don't know about? Drop us a comment below or on our social media pages to have your seafood and beer pairing added.
Lobster: American IPA, Belgian Tripel, or Wheat Beer
You won't hear any arguments from us if somebody said, "Everything goes with lobster!" That's probably true, but some beers do pair better with lobster than others. When you're biting into sweet, tender pieces of lobster, the best brews to have on hand are American single IPA, Belgian Tripel, and wheat beer. All 3 tend to lean to the bitter side of the spectrum, which sweet, buttery lobster can cut right through.
Local Maine Favorite: Maine Lobster Now loves our close-knit Maine community and we want to support other local companies in the area. If you're visiting Maine or really want to experience a true Maine lobster dinner, make sure to have some Allagash White or Maine Beer Company Dinner IPA in the fridge. The light, citrus flavor is the perfect partner for lobster meat.
Crabmeat, especially Alaskan king crab and snow crab, tends to be very sweet and rich. To balance that flavor, you want light, crisp, slightly bitter beers. Depending on the bitterness, a lager can do the trick, but your best bet is pilsner.
Local Maine Favorite: If you want local Maine beers to pair up with your crab leg meat, seek out Bissell Brothers Precept pilsner or any Oxbow Brewery lager or pilsner, like their Luppolo pilsner.
Scallops: American IPA or Hefeweizen
We're still in the "sweet" seafood offerings, so when talking about scallops, the beer and seafood pairings are similar to that of lobster and crab. You'll want something slightly bitter and hoppy to match the sweetness of scallops. When ordering scallops, look for American single IPAs or hefeweizen beers.
Local Maine Favorite: For great American single IPAs to pair with scallops, beer rating website BeerAdvocate.com has these high-rated options from Bissell Brothers Brewing Co. to choose from: Swish, Nothing Gold, and Reciprocal. All of these rank in the top 10 Maine beers according to beer snobs (like us).
Let's switch routes on our beer adventure and head into darker territory. By that, we mean stouts and porters. As Food & Wine notes, this seafood and beer pairing may surprise some. Oysters have a strong brine flavor, which happens to marry quite well with the deep, strong malty flavor of stouts. Cookbook author Hank Shaw also argues that oysters and slightly sour beers, like gose or Berliner Weisse pair well together too.
Mussels: Belgian-Style or Wheat Beer
There are few things better than a steaming pot full of mussels cooked in a flavorful sauce. One of those things happens to be a refreshing beer to savor along with your mussels. In Belgium, one of the country's signature dishes is moules-frites, or mussels and fries. So it only makes sense that pairing a Belgian-style ale with mussels is sure to excite the taste buds. Belgium has its own style of wheat beer (witbier), any other wheat beer will pair nicely with mussels as well.
Local Maine Favorite: For a local Maine favorite to pair with mussels, head back to Allagash Brewing Company for the Allagash White. You can't go wrong with this match-up.
Salmon: Saison, Amber Ale, or IPA
The rich, fatty flavor of salmon makes it one seafood that pairs well with a host of beer styles. One of the most recommended is a Saison, which often has a fruity or spicy flavor (or both) and is highly carbonated. When grilling salmon, darker amber ale is a surefire win. Even single IPAs and their more bitter flavor tend to be a surprising match for salmon.
Other Fish: Lager, Pale Ale, or Pilsner
Fish is another seafood that can pair with nearly every type of beer. That's because fish can be prepared in so many different ways. Hank Shaw says if it's battered and fried, then hefeweizen or pilsner is the way to go. Food & Wine says for tuna, try a wheat beer, and for swordfish, go with a gose all dinner long. One of the easiest recipes you might try is fish tacos, in which case you want a light lager, like Tecate, or pale ale to even out the spice.
Local Maine Favorite: If you need a winning local Maine beer to match with your fish tacos, check out Oxbow Brewery Farmhouse Ale. It's a pale ale that's considered one of the best from Maine.
Whether it's a shrimp cocktail, mixed into a stir fry, or grilled over an open flame, shrimp doesn't have a particularly powerful taste. Which means it's easy to overpower. When pairing shrimp and beer, make sure to keep things light and pop open a pale ale at the table.
Seafood chowders and soups are a great way to warm up on a cold day or anytime you may be feeling a little under the weather. If you need a beer pairing for your bowl of chowder, look to get stouts or porters. The dairy-based broth will go great with the malty, sometimes chocolatey flavors of porters and stouts.
Local Maine Favorite: Looking for exceptional local Maine stouts and porters? Check out Mott the Lesser Russian Imperial Stout from Tributary Brewing Co., or Gunner's Daughter from Mast Landing Brewing Company.
If you have any beer and seafood pairings you'd like to share with us, we'd love to hear them. If you can't wait to try some of the recommended pairings, then don't delay and fill up your cart now. We'll handle the delicious seafood. You take care of your favorite brews.