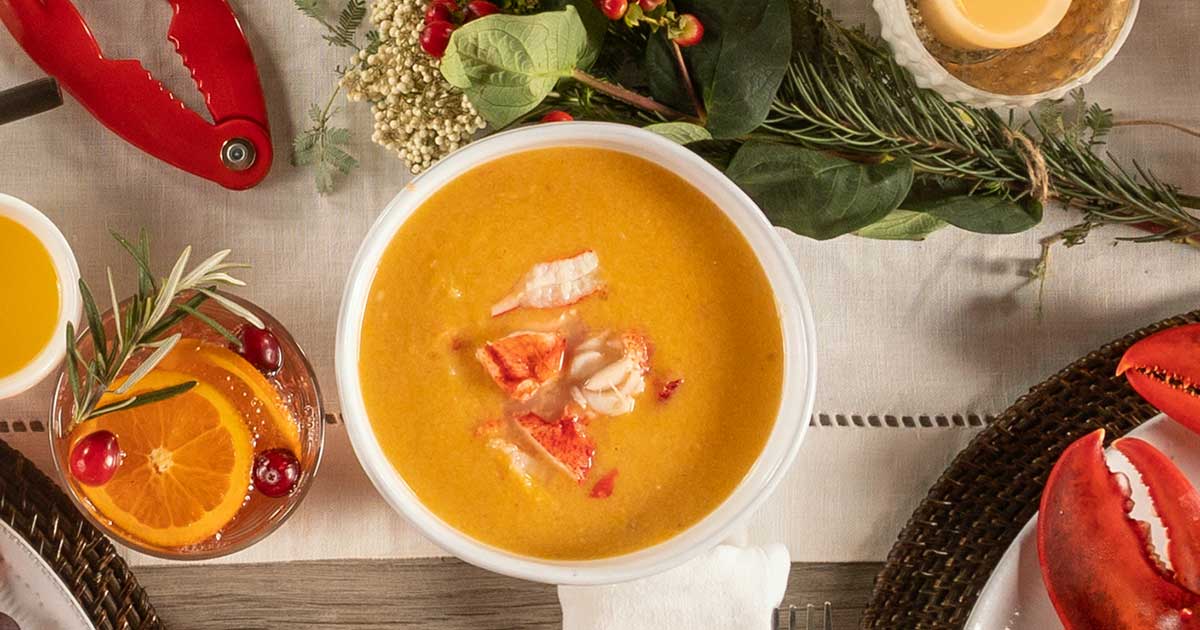 Sure, Thanksgiving is all about spending quality time with family and friends, but that time is spent sharing a decadent meal of which we sometimes wish we had not grabbed a second plateful (What? Just me?). If you're looking to really impress your dinner guests this year, might we suggest a little more variety to go with the bird and serve these Thanksgiving seafood side dishes at the table?
Adding new Thanksgiving seafood side dishes is a great way to spice things up this holiday without making any drastic changes to your standard menu. Maine Lobster Now offers plenty of premade options that you can simply order and enjoy. Or you can get creative and use our best-selling, high-quality seafood items in new recipes you've been waiting to try. With these Thanksgiving seafood side dishes at the table, you'll make for a truly memorable meal this year.
Thanksgiving Seafood Side Dishes
Don't settle for supermarket seafood when you're preparing delicious Thanksgiving seafood side dishes. Buy the best seafood online for these recipes, including crabmeat, scallops, lump lobster meat, and more from Maine Lobster Now.
Save time in your Thanksgiving dinner prep and purchase our very own Susan's Seafood Stuffing. It's a favorite at Maine Lobster Now and is packed with scallops, crabmeat, and shrimp. Best of all, you just have to heat it up and it's ready for the table.
Scalloped Oysters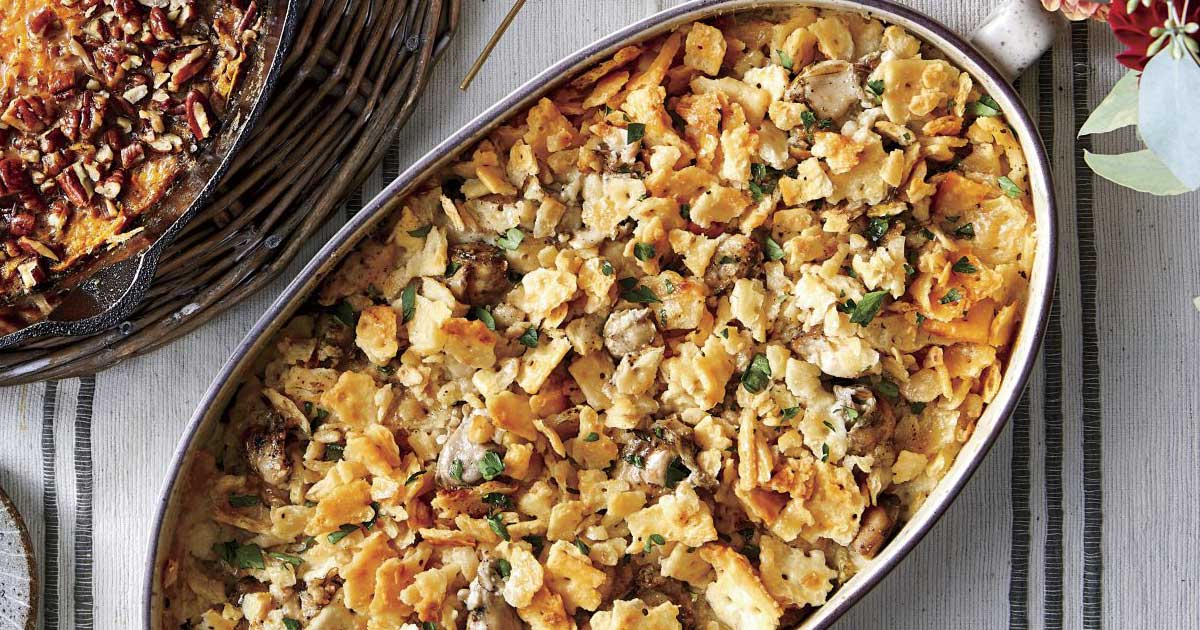 Credit: Southern Living: Antonis Achilleos; Prop Styling: Kathleen Varner; Food Styling: Emily Nabros Hall

For the oyster connoisseurs, this Southern dish might become one of your new favorites. Oysters are the main focal point here, as you'll get plenty of that briny flavor mixed with the crunch of crushed crackers. Get the recipe.
Sea Island Crab-Fried Rice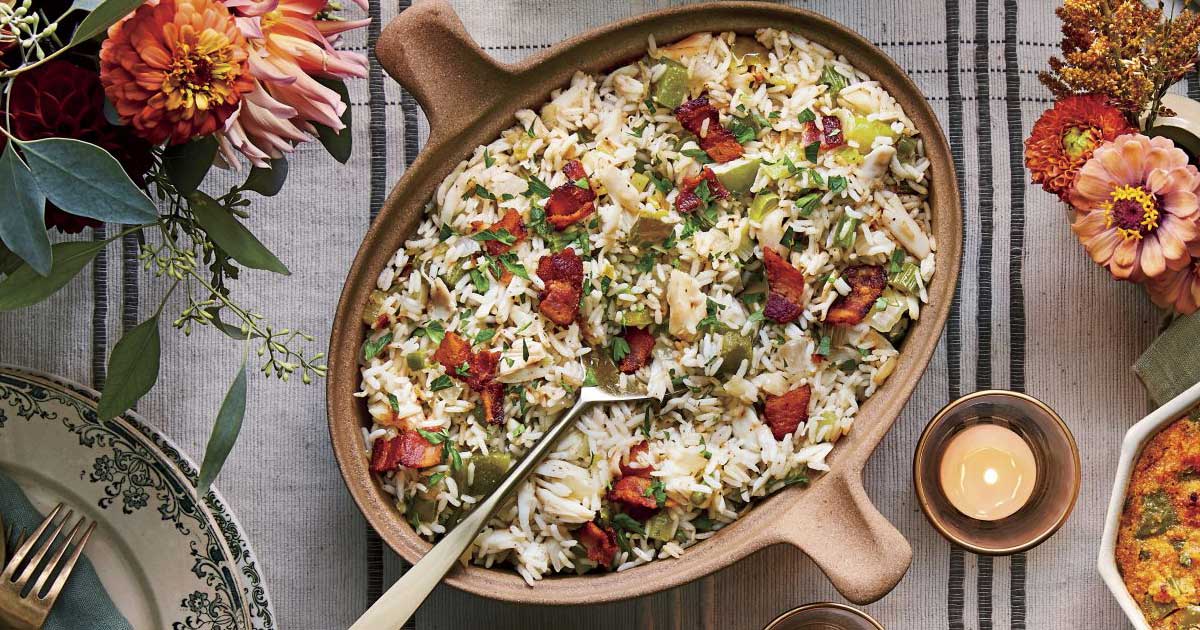 Credit: Southern Living: Antonis Achilleos; Prop Styling: Kathleen Varner; Food Styling: Emily Nabros Hall
From cookbook author Sallie Ann Robinson, she mixes sweet crab meat with precooked rice, bacon, and sautéed vegetables that will have you wishing you'd found this recipe years ago. Get the recipe.
Deviled Crab Stuffing
Credit: Food Network
This takes traditional seafood stuffing and gives it a little extra texture, color, and flavor. With peppers and potato bread, this deviled crab stuffing is major comfort food that you'll want to keep eating for Thanksgiving, Christmas, or any time afterward. Get the recipe.
Crab Toast With Spicy Yogurt
Credit: Bon Appetit: Danny Kim
These little toasties make for a perfect appetizer or Thanksgiving dinner side. The yogurt adds some extra zest to the sweet Jonah Crab meat, making for a truly savory flavor to the palette in every bite. Get the recipe.
Spicy Mango Scallops
Credit: Taste of Home
This is a less traditional dish, but one that would pair well with Thanksgiving classics nonetheless. The mango chutney and pineapple brighten the dish, while the succulent scallops and peanut flavors bring some balance. Go for this recipe when you really want to change things up. Get the Recipe.
Is there any better blend of sweet and savory than a bacon-wrapped scallop? We don't think so. This premade delight from Maine Lobster Now is perfect as an appetizer or during dinner. You may consider buying extra, because they tend to disappear off plates very quickly!
Salmon Dip
Credit: Taste of Home
Serve this with a tray of buttery crackers or on the side for guests to enjoy with Thanksgiving dinner rolls. The salmon makes for a nutritious additional source of protein and healthy fats while adding a unique flavor profile to your traditional Thanksgiving dinner. Get the Recipe.
Crab and Cheese Rolls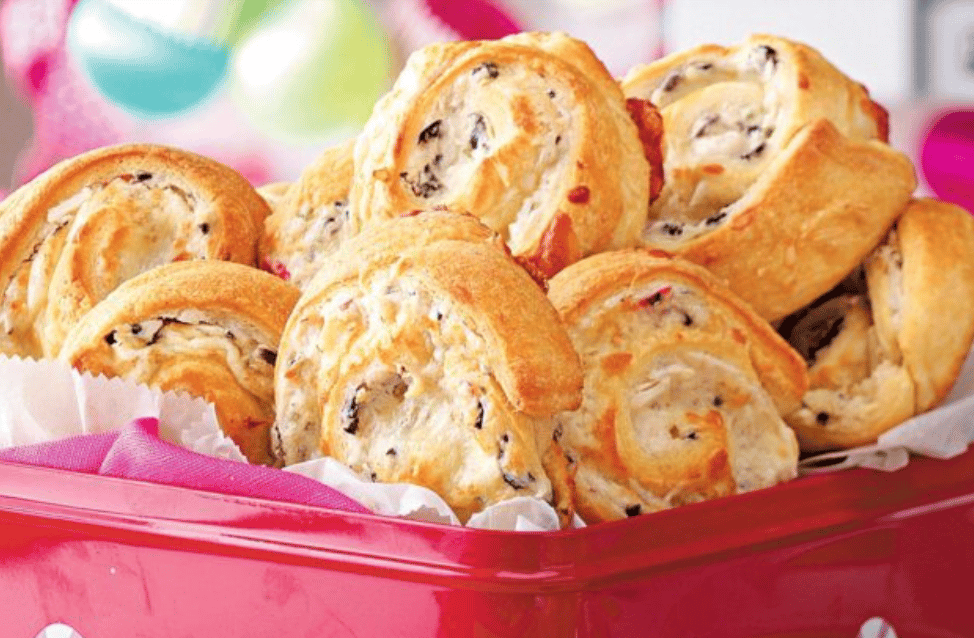 Credit: Taste of Home
If you're looking for a festive and flavorful roll recipe that gives just a little something extra, you've found it. Mozzarella, parmesan, and cream cheese are blended with sweet, juicy hunks of crabmeat, olives, and chives, for an unforgettable dinner roll you'll be making again and again. Get the Recipe.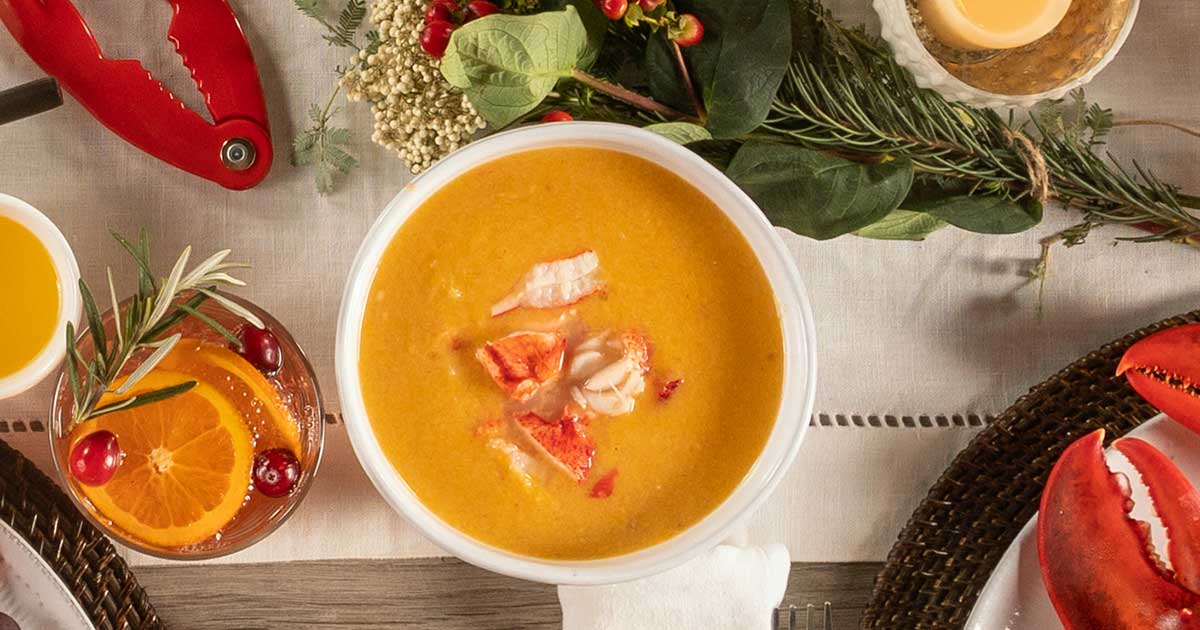 This is yet another excellent option if you're looking for a side you can simply heat up and serve. Each spoonful of our rich, creamy lobster bisque bursts with lobster flavor, but more importantly actual lobster meat. Each serving of our bisque provides 2 oz. of lobster meat at least.
Crab-Stuffed Deviled Eggs
Credit: AllRecipes.com
We all know deviled eggs make any holiday spread look even more incredible. This is a fast, easy-to-make recipe, made even more decadent and filling with a hearty helping of fresh crabmeat. Get the Recipe.
Scallop & Shrimp Seafood Salad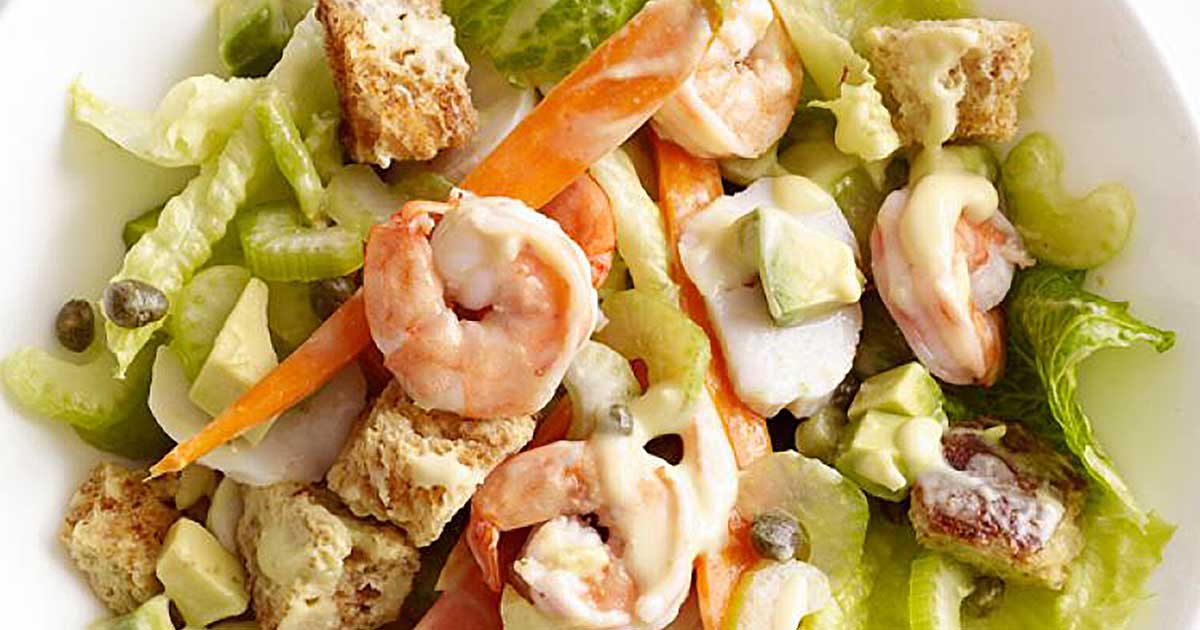 Credit: Food Network
Add bold seafood flavor and a little zest to a classic green salad this Thanksgiving. This delightful salad adds sautéed scallops, peeled cocktail shrimp, capers, and a squeeze of fresh lemon for the perfect pre-dinner salad with zing. Get the Recipe.
Pumpkin Shrimp Bruschetta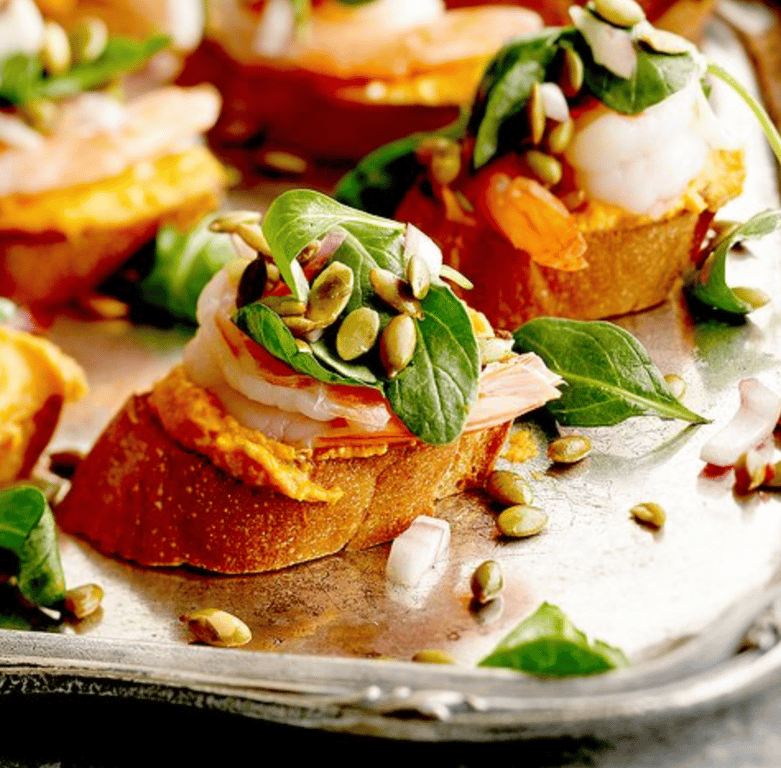 Credit: Better Homes & Gardens
When each autumn rolls around, it's "pumpkin spice" this and "pumpkin spice" that. This year cut out the fake pumpkin flavor and serve these pumpkin shrimp bruschetta. They're sure to be a show stopper and a party favorite. Add it to your menu to get the best of autumn and the ocean all in one. Get the Recipe.
Shrimp cocktail is a classic holiday starter, but you can kick that up a notch by bringing to the table a tray of giant Jonah crab cocktail claws. The sweet crabmeat presents beautifully in the cap-off shell and pairs wonderfully with both cocktail sauce or melted butter.
Sweet Corn Chimichurri Butter Shrimp and Polenta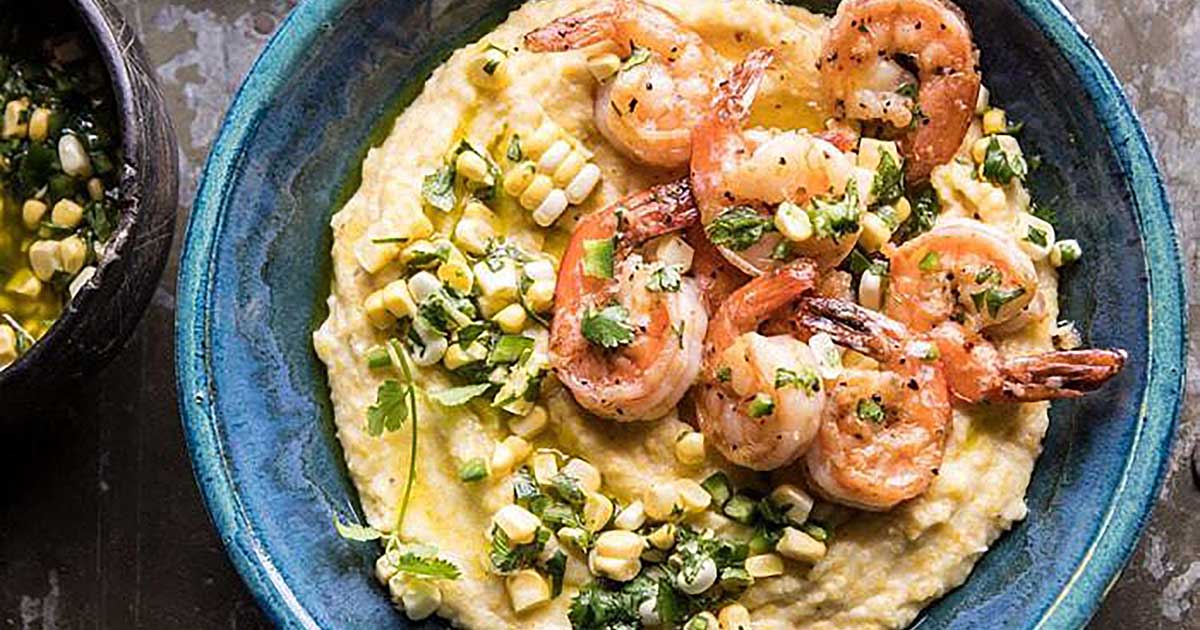 Credit: Half-Baked Harvest
This dish offers it all with notes of sweet corn and savory shrimp on top of a creamy polenta bed. This is a great replacement for a classic pre-dinner soup or salad. Get the Recipe.
Lobster Avocado Salad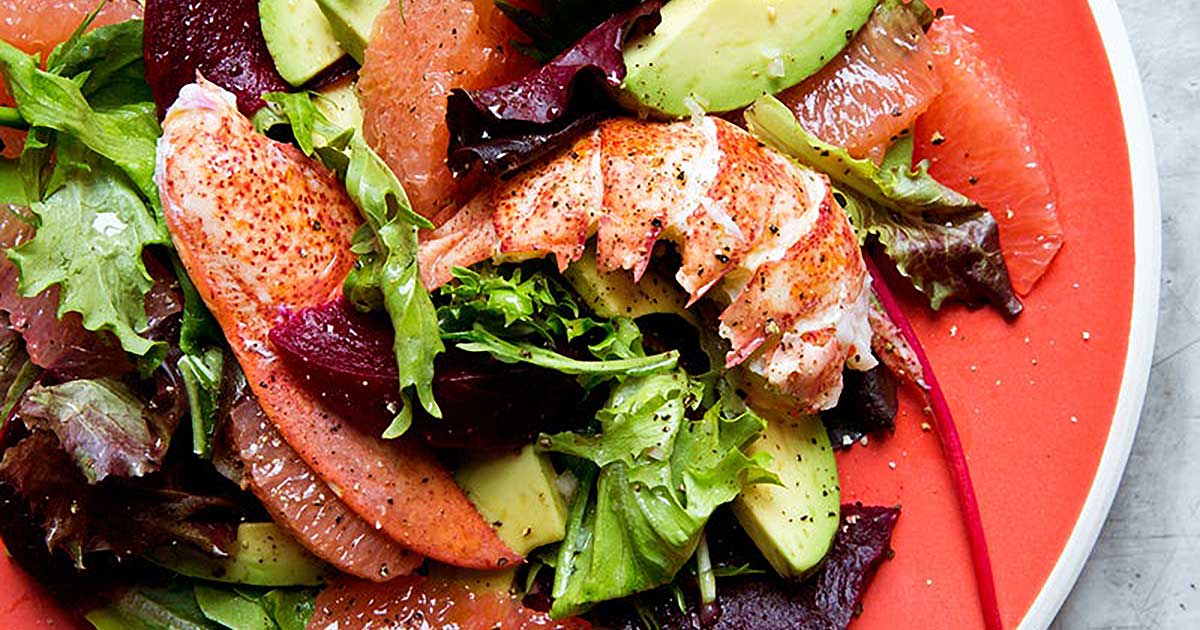 Credit: Saveur
This recipe is another excellent option for a starter salad incorporating seafood. The delicacy of the ocean – lobster – is paired with slices of fresh grapefruit and creamy avocado making for a refreshing start to any Thanksgiving meal. Get the Recipe.
All of these recipes work not only for Thanksgiving but for any of your upcoming holiday parties. If you are looking for additional ideas, be sure to check out Maine Lobster Now's premade and always delicious appetizers and gourmet offerings as well.