Seasonality plays a big role when you are planning any wedding, from the food and flowers to the venue. And, with long warm days and Mother Nature in full bloom, there isn't a more beautiful season for a wedding than summer. With all of that in mind, seafood is a great choice for any summertime wedding. It is seasonal, light, fresh, and full of flavor.
In this post, we'll go over menu ideas for cocktail hour, main courses, sides and of course dessert.
Cocktail Hour Ideas for Your Summer Wedding
Get the party started during cocktail hour with drinks, tasty hors d'oeuvres and socializing. These appetizer and drink ideas are sure to put your guests in a festive mood.
1. Appetizers
A summer wedding reception is a perfect opportunity to serve beachy treats like fresh seafood and colorful salads. Consider serving the following summery appetizers your guests are sure to remember:
Crab puffs: During cocktail hour, guests look forward to finger foods like creamy crab puffs. A crab puff is often a mix of crab meat, cream cheese and seasonings wrapped in buttery, flaky pastry dough. You can serve crab puffs with a sweet Asian-style sauce, or allow guests to enjoy them as they are.
Caprese Salad: Caprese salad is simple, flavorful and goes great with just about anything. Caprese salad usually consists of tomatoes, mozzarella, and fresh basil, but you can experiment with flavors and colors to match your wedding theme. For example, you can add a touch of sweetness and a splash of color by tossing in a few handfuls of fresh summer fruit like peaches, cherries, plums or raspberries. You can also add greater texture and complexity with salty ingredients like olives, almonds or cured Italian meats. Arrange Caprese salad on a pretty platter and invite guests to help themselves.
Oysters on the half shell: Well known as an aphrodisiac, Oysters are an excellent way to signify party time and celebrate love. They also make the perfect addition to a beach-themed wedding, and, best of all, go great with bubbly. Consider setting up an oyster bar with bowls of lemon wedges and mignonette sauce.
Shrimp cocktail shooters: Shrimp cocktail shooters make a fun and refreshing treat that'll get the party started. By placing about a tablespoon of jazzed-up cocktail sauce and a plump cocktail shrimp in a shot glass, you'll create an individual appetizer each guest can enjoy as they mingle.
Bacon-wrapped scallops: Wrap just about anything with bacon, and you'll have a tasty snack. Wrap scallops with bacon, and you'll have a wedding full of smiling guests. Bacon-wrapped scallops are melt-in-your-mouth delicious and easy to grab and go.
Mini lobster rolls: Nothing says summer picnic like a cool and creamy lobster roll. Treat guests to mini lobster rolls to give them a sample of scrumptious seafood without filling them up too much. You might try this Mini Lobster Rolls recipe which combines cooked lobster meat with mayo, lemon zest and fresh tarragon.
2. Drinks
A summer wedding calls for plenty of frosty beverages to keep guests refreshed and inspire a relaxed mood. Here are some invigorating beverage ideas that pair perfectly with seafood and zesty summer fare:
Bloody Mary: A Bloody Mary is a classic cocktail that complements shrimp and other seafood dishes perfectly. Try our Lobster Bloody Mary recipe, which uses cooked lobster meat as a garnish, for an elegant twist.
Mojitos: A mojito is a thirst-quenching cocktail that's ideal for a hot summer day. Typically a mojito consists of rum, mint, lime, club soda and a bit of sugar, but don't be afraid to get creative. For example, you might add a splash of pineapple juice and a pineapple slice to each glass for tropical flair, or drop a few blueberries into each drink before serving for a deep purple hue. A coconut mojito will make guests feel like they're at a beachside resort, even if they're hundreds of miles from the nearest shore.
Daiquiris: A classic daiquiri uses vibrant ingredients such as rum, lime juice and simple syrup for a fresh drink that's both sweet and sour. Like mojitos, daiquiris are highly versatile and pair magnificently with seafood dishes. For popular variations of the classic daiquiri, considering serving strawberry daiquiris or banana daiquiris, which are sure to be a hit. They can even be served without the rum for younger guests to enjoy.
Main Courses Including Seafood for Your Summer Wedding
Summer is the season for firing up the grill and serving dishes that sizzle. Whether you want to add luxury to a summer picnic themed wedding or bring the sea to the table, the following main course ideas are sure to be crowd pleasers at any summertime wedding.
1. Lobster
A lobster dinner will make each guest feel like royalty, even if it's served in a casual way. For example, if you have an upscale picnic-style reception, consider treating guests to a traditional lobster bake for the main course. A lobster bake is essentially a seafood feast in which lobster, clams, potatoes and corn are cooked together and served in the same pot. If you wish to have a lobster bake, consider offering bibs to your guests so they can dig with ease.
Another fun way to serve lobster for your summer wedding is to offer a lobster roll station where guests can help themselves to all the fixings such as cooked lobster meat, mayo and rolls. For a more traditional entrée steeped in elegance, consider serving grilled lobster with herbed butter and summer vegetables on the side. No matter how you serve lobster at your wedding, it's sure to make great memories.
2. Crab
Buttery, delicate crab meat makes another great choice for a summer wedding entrée. If you have an outdoor wedding, consider serving boiled or grilled crab legs with a spicy lemon butter sauce for dipping. For a comforting classic that guests are sure to love with every forkful consider serving crab cakes, which also pair well with filet mignons.
3. Fish
Fish is light but satisfying, and an excellent choice for a summer wedding. You have a lot of options when it comes to choosing a delicious fish entrée. For example, you might serve lightly seasoned halibut with caramelized summer veggies and fresh herbs, or broiled salmon with a lemon garlic sauce. Want something a little more casual and unconventional? Why not have a fish taco bar where guests can help themselves to fish and bright, summery toppings like guacamole, Asian-style slaw, mango salsa and cilantro?
4. Steak
Steak is a classic choice and a great alternative for the non-seafood lovers at the party. Aim for a quality cut above all else to ensure your guests enjoy a meal fit for a special occasion. To stick with a summer theme, consider serving grilled rib-eye steak with a citrusy salad. For example, you might combine oranges, Gorgonzola cheese and a fresh vinaigrette with mixed greens as a side.
5. Sea Scallops
Scallops are yet another treasure of the sea that are often reserved for special occasions. These rich and slightly sweet delicacies go perfect with other seafood dishes or as the main attraction. Like most seafood, it doesn't take much to bring out delicious scallop flavors. You could serve seared scallops with a refreshing fennel salad to impress your guests, or flavorful kebabs of grilled scallops, oranges and cucumbers for a creative entrée that sings of summer.
Summer Wedding Sides
The side dishes for your summer wedding menu need not steal the show, but they can add a dazzling touch to the main course. Here are some sides that work well with seafood entrées or steak, and will leave guests satiated and ready for the dance floor.
1. Soup
A bowl of soup always helps to round out a meal, especially when it complements the main course. Consider keeping guests cool with a refreshing chilled soup like shrimp gazpacho. This Shrimp Gazpacho recipe adds lime and avocado to a chilled tomato base for amplified flavor. Shrimp gazpacho tastes delicious with a fish or seafood entrée.
If you want to go with a New England dinner theme, consider serving creamy clam chowder with the main course.
2. Grilled Vegetables
Grilled vegetables are a go-to choice for a reason. With grilled veggies, you can balance a meal with flavor, color and nutrition without detracting from the main dish. Guests will be excited to eat summer veggies like zucchini and eggplant fresh off the grill. If you're having a casual wedding reception, consider pairing the main dish with a side of grilled corn on the cob, which pairs perfectly with lobster or crab.
3. Lobster Mac and Cheese
A marriage celebration calls for the ultimate indulgence — lobster mac and cheese. Guests will fall head over heels for this side, which you might serve with lobster, steak or both for a surf and turf surprise. Add a touch of green with a side of grilled asparagus or steamed broccoli, and you'll have a winning meal.
4. Seafood Stuffing
Who doesn't love a heap of savory stuffing? There are tons of ways to incorporate seafood stuffing into the main course. You could stuff shrimp, fish, clams, lobster, mushroom caps, steak or put seafood stuffing atop crab cakes — whatever your heart desires. You could also simply serve seafood stuffing as a side dish. Our seafood stuffing recipe combines lobster meat, chopped haddock and scallops with butter and Ritz crackers for a mouthwatering topping— perfect for baked lobster.
Dessert Ideas for Summer Weddings
Guests with a sweet tooth will be glad to wait for the grand finale — dessert. Summer is the season for creamy frozen desserts, colorful cakes and fruit-filled pies. You won't have a hard time coming up with something your guests will love, especially if it involves sugar and in-season fruit. Here are a few ideas to help you complete your summer wedding menu.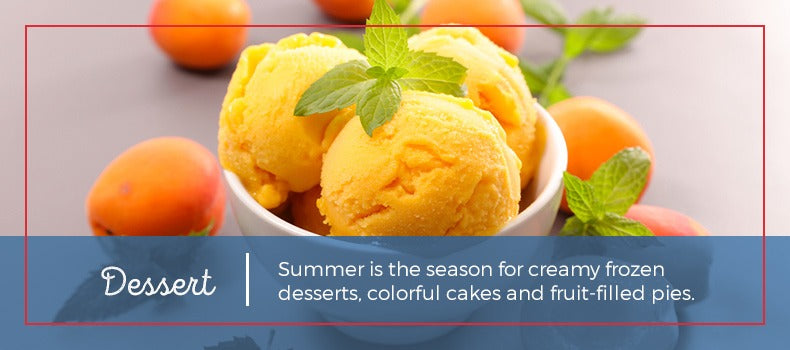 1. Cake
Summer is the perfect time to serve up bold colors and lush designs. This means you might have a cake decorated with colorful fruit, flowers or both. For something a little less conventional that evokes a summery mood, consider serving strawberry shortcake. You might order a cake consisting of stacked pound cake layers, fresh strawberry toppings and cream in between, or serve individual strawberry shortcakes in mason jars.
2. Whoopie Pies
If you want a New England dessert to go with your fresh Maine lobster, consider serving whoopie pies. A whoopie pie, which consists of two chocolate cakes stuffed with cream, is the official state treat of Maine. Whoopie pies are a classic ending to a lobster bake or seafood dinner, and guests are sure to appreciate these rich, chocolatey delights.
3. Fruit
Fruit makes an excellent summer dessert because it's light and refreshing, and there are so many luscious fruits in season. Also, there are countless ways you can serve fruit for dessert at a summer wedding. For example, you could offer fruit as a sorbet topping or have a fruit bar where guests can help themselves. You could even make a dessert centered around fruit, such as popsicles, pies, tarts or cobblers. Include the option for a scoop of vanilla ice cream or whipped cream to give the dish a little something extra. Seasonal summer fruits include apples, apricots, blueberries, cantaloupe, cherries, mangos, peaches, plums, strawberries and watermelon.
4. Gelato or Sorbet
What could be better on a hot summer day than a bowl of ice-cold gelato or sorbet? Your guests will love a sweet, cooling dessert, and you can easily choose one that matches your wedding color scheme. Offer a colorful gelato bar, which is sure to have guests raving for months, or serve sorbet with sparkling wine. For example, consider serving sorbet floats for dessert, like this recipe which pours white sparkling wine over scoops of raspberry and lemon sorbet. Add a mint leaf garnish for an elegant touch.
Shop for Wedding Seafood at Maine Lobster Now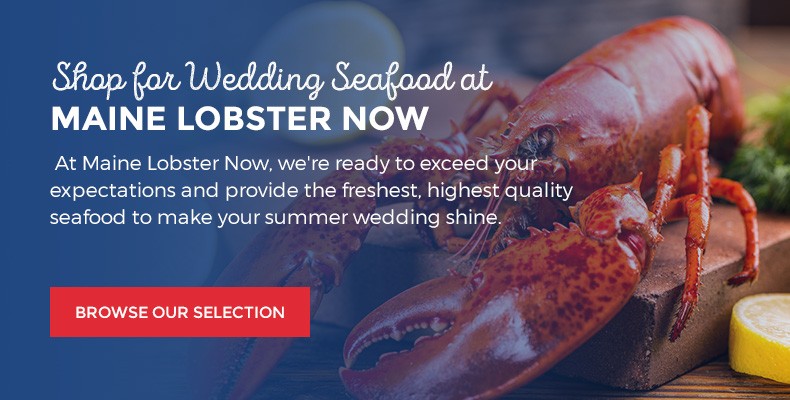 Your wedding day will be one of the most memorable days of your life. You and your guests deserve the best to celebrate, after all — you're getting married! At Maine Lobster Now, we're ready to exceed your expectations and provide the freshest, highest quality seafood to make your summer wedding shine. We offer everything from fresh Maine lobster to quality cuts of beef. Plus, you can choose your delivery date to make sure you get your seafood on time. Browse our website to shop for your wedding seafood needs, or contact us today for more information!