Are you on the Keto Diet and wondering if you have to give up your favorite crustacean? Good news— you don't! Being on the keto diet doesn't mean you have to sacrifice flavor or decadence. In this post, we'll go over what the Keto Diet is and show you keto-friendly ways you can enjoy lobster.
What Is the Keto Diet?
The Keto or Ketogenic Diet is a low-carb, high-fat diet that shares similar qualities with other low-carb diets like the Atkins Diet. However, unlike other low-carb, high-protein diets, the Keto Diet focuses on fat, which will provide as much as 90% of your daily calories.
How Does the Keto Diet Work?
For the Keto Diet to work, your liver needs to make ketone bodies, which is the fuel your liver produces from stored fat. This way, your body burns fat for fuel instead of using sugar from carbs for energy.
People on the keto diet might try to eat no more than 20 to 50 grams of carbs a day and must include fat at every meal. For example, someone with a daily intake of 2,000 calories might consume 165 grams of fat and 40 grams of carbs while on the keto diet. It usually takes a few days for the Keto Diet to start working.
What to Eat on the Keto Diet
Different types of Keto Diets involve varying amounts of carbs, proteins and fats. In general, someone on a Keto Diet will get most of their calories from fat and the least amount of calories from carbs. To give you an idea of what's allowed, here are healthy foods you can include in a Keto Diet:
Fish and seafood: Fish and seafood make excellent keto foods because they are low in carbs, highly nutritious and can be prepared in a wide range of ways. Plus, seafood tastes so good, it makes it easy to stick to a diet.
Low-carb veggies: Non-starchy, low-carb vegetables like bell peppers, mushrooms, tomatoes and most green veggies are high in important nutrients, minerals and antioxidants. They also make a great substitutes for carb-rich foods. For example, mashed cauliflower can be a yummy alternative to mashed potatoes, and zucchini can be turned into zoodles for satisfying "pasta."
Cheese: Cheese, overall, is a high-fat low-carb food — perfect for the Keto Diet. Adding cheese to your meal instantly increases fat and flavor.
Avocados: Avocados are delicious, nutritious and especially high in potassium. Add avocado to increase the richness and health of a dish.
Meat and poultry: Along with fish and seafood, meat and poultry are Keto Diet staples. Meat and poultry have high protein, no carbs and plenty of nutrients.
Eggs: Eggs are another excellent source of protein and nutrition, and are almost carb-free. Eggs are extremely versatile and can be used in a variety of recipes. For example, you can top a bed of greens with a boiled egg, or eat a cheesy omelet all within the bounds of a Keto Diet.
Healthy oils: Oils like extra-virgin olive oil, coconut oil and avocado oil can be used to season dishes and add healthy fat to a Keto meal.
Nuts and seeds: Nuts and seeds are nutritious low-carb, high-fat foods. You can add nuts or seeds to just about anything for extra crunch, fat and flavor, or eat them alone as a snack.
Butter and cream: Butter and cream are low-carb and high-fat. You might use butter for baking, frying or sauteing ingredients, and cream to increase the richness of a dish.
Seasonings: You can amplify the flavor of seafood, veggies, meat and eggs with salt, pepper, herbs and spices on the Keto Diet.
Plain Greek yogurt and cottage cheese: Plain Greek yogurt or cottage cheese make quick and healthy snacks. These foods are high in protein, low in carbs and suitable for a Keto Diet.
Berries: Although most fruits have too many carbs for a Keto Diet, berries are low in carbs and packed with fiber and antioxidants. You might add blackberries, strawberries, blueberries and raspberries to your meals for a touch of extra sweetness.
What Not to Eat on the Keto Diet
The following foods you'll want to reduce or avoid altogether on a Keto Diet:
Sugary foods like soda, cake and candy
Grain foods such as bread, pasta, rice and cereal
Fruit except for berries
Beans and legumes
Root vegetables
High-carb condiments or sauces
Unhealthy fats like mayonnaise or processed vegetable oils
Alcohol
Can I Eat Lobster While on the Keto Diet?
Yes, you can enjoy delicious, succulent lobster on the Keto Diet. Lobster Is high in protein and carb-free, which makes it the perfect staple for a Keto meal. You'll also get other nutrients when you eat lobster such as calcium, iron and a hefty dose of selenium.
The key to eating lobster on a Keto Diet is to consider how you prepare the lobster. For example, if you're craving lobster mac and cheese, you might replace pasta with veggies and still enjoy the cheesy lobster flavors.
Also, because lobster is a low-fat food, you may wish to serve it with delicious fats to highlight its taste and fulfill all of the Keto Diet requirements. For example, you might serve broiled lobster tails topped with pats of butter or replace the side of mashed potatoes with sauteed asparagus, and you'll be good to go.
Keto Diet Lobster Recipe Ideas
Ready to enjoy the taste of luxury on your keto diet? With lobster on the menu, any diet doesn't seem half bad. Here are ideas to help you build keto-friendly lobster meals that are high in deliciousness, low in carbs, and easy to make.
1. Steamed Lobster
One easy way to make sure you don't get too many carbs with your lobster meal is to steam live lobster and serve it with a decadent, high-fat, low-carb side. Steaming is a fast and traditional way to cook lobster. Here are our lobster steaming instructions to lend a helping claw:
Bring a couple of inches of water to a rapid boil in a large pot.
Place lobsters into the pot using tongs and cover tightly with a lid.
Once the water returns to a rapid boil, turn the heat down to a rolling boil and start your timer.
Steam lobsters for 9 minutes for the first pound, and add 4 minutes for each additional pound — you'll know your lobsters are ready when they're bright red.
Remove lobsters with tongs and set in cool water for 3 to 5 minutes.
Serve the steamed lobsters with melted butter for dipping, and consider a side of veggies. You might try this low-carb cheesy asparagus recipe which combines asparagus, olive oil and shredded cheeses. If you prefer lobster tails instead of whole lobsters, try our steamed lobster tail recipe instead.
2. Lobster Cakes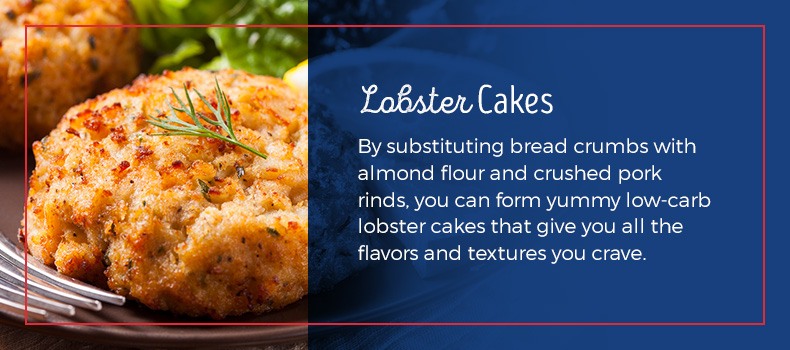 Did you know you can enjoy moist, buttery lobster cakes without the carbs? By substituting bread crumbs with almond flour and crushed pork rinds, you can form yummy low-carb lobster cakes that give you all the flavors and textures you crave. Try this easy Keto Cakes recipe designed especially for the keto diet. You'll need:
1 cup cooked lobster meat, finely chopped
1 egg, beaten
3/4 cup crushed pork rinds
2 tablespoons almond flour
1/2 red bell pepper, finely chopped
1 scallion, finely chopped
2 tablespoons fresh parsley, chopped
1 teaspoon Old Bay Seasoning
1 teaspoon lemon juice
1 1/2 teaspoons Worcestershire sauce
Salt and pepper to taste
1 tablespoon olive oil
1 tablespoon butter
In a bowl, mix the lobster meat and egg. Add the pork rind crumbs, almond flour, bell pepper, scallion, parsley, Old Bay, lemon juice, Worcestershire sauce, and salt and pepper, and combine the ingredients well with your hands. Form five small patties with the mixture.
In a skillet over medium heat, heat the olive oil and butter. Add the lobster cakes and cook until golden brown, for about 4 minutes per side.
Consider serving these cakes with a fresh, low-carb salad like baby spinach tossed with goat cheese and a basic vinaigrette.
3. Lobster Roll Avocados
You don't have to give up a love of lobster rolls to stick to a Keto Diet. You can enjoy the creamy, rich flavors of this New England classic with a few tweaks. This Lobster Roll with Avocados recipe replaces regular mayo with avocado oil mayo and traditional top-split buns with ripe avocado halves. Ready to give this one a shot at your next picnic? Here's what you'll need:
2 cups chopped cooked lobster meat
1 celery stalk, chopped
1 green onion, chopped
2 tablespoons melted butter
1 tablespoon avocado oil mayonnaise
1 tablespoon fresh lemon juice
Salt and pepper to taste
2 avocados, halved and pitted
Fresh chives
In a bowl, combine the lobster meat, celery and onion. Stir in the butter, mayo, and lemon juice, and season with salt and pepper to taste.
Scoop out some of the flesh of each avocado half, leaving at least half an inch of avocado inside. Stuff each half with the lobster filling and garnish with fresh chives. Enjoy your delicious Keto lobster roll immediately.
4. Lobster Alfredo
Lobster alfredo on the Keto Diet? That's right — savory, indulgent lobster alfredo can stay on the menu. The trick is to replace pasta with steamed cauliflower or another low-carb pasta alternatives such as spaghetti squash or spiralized zucchini. You can also make your own low-carb pasta by baking a simple mix of eggs, cream cheese and seasonings. Try this Low-Carb Lobster Alfredo recipe to get started. You'll need:
3 tablespoons butter
1 tablespoon fresh lobster juice
1/4 cup heavy cream
1/4 cup alfredo sauce
About 2 cups cooked lobster meat
1/2 teaspoon lemon juice
Salt and pepper to taste
1/2 teaspoon chives
2 cups cooked cauliflower florets
In a pan over medium heat, add the butter, lobster juice, and cream and cook for about 4 minutes or until it thickens. Add the Alfredo sauce, lobster meat, lemon juice, salt and pepper. Simmer over low heat for 3 minutes. Add the chives, and top the cauliflower or low-carb pasta alternative with the mixture.
To make a low-carb Alfredo sauce at home instead of using a store-bought jar of sauce, try this Easy Low Carb Keto Alfredo Sauce recipe.
5. Lobster Bisque
A bowl of velvety lobster bisque will make you forget you're on a diet without falling off track. This Low Carb Lobster Bisque recipe has only 7 grams of carbs per serving, but all the salty, creamy goodness you crave. Rather than using carb-loaded ingredients like flour or cornstarch to thicken the soup, you'll use a bit of xanthan gum instead.
Here's what you'll need:
1 tablespoon unsalted butter
1 carrot, chopped
1 yellow onion, chopped
4 cloves garlic, minced
1 cup cooking sherry
2 cups fish stock
4 cups chicken stock
1/2 teaspoon dried thyme
1 teaspoon xanthan gum
1/2 teaspoon red pepper flakes
1 teaspoon smoked paprika
One 14.5-ounce can diced tomatoes
1 1/2 pounds cooked lobster meat, chopped
1 cup heavy cream
Salt and pepper to taste
Fresh chopped parsley
In a large pot over medium-high heat, melt the butter. Add the carrot and onion and cook for about 10 minutes or until they soften. Add the garlic and cook for another minute or until the garlic lightly browns. Pour in the sherry, fish stock and chicken stock. Add the thyme, xanthan gum, red pepper flakes, paprika, and tomatoes and stir. Bring the mixture to a boil.
Reduce the heat to low. Puree the soup by using an immersion blender, or by adding the soup a cup at a time to a blender. Once the soup is smooth — a little chunky is acceptable — stir in the lobster meat, heavy cream, salt, and pepper, and garnish with parsley before serving. Enjoy this bowl of lobster bisque with a side of asparagus or crispy roasted Brussel sprouts.
6. Grilled Lobster Tails
Just when you think lobster can't get any better, you remember you have a grill. No grill? Don't despair — you can steam or roast lobster and serve it with seasoned butter for stellar results. This Keto Grilled Lobster Tails With Creole Butter recipe conjures up images of summer picnics and days at the beach, and it only has 2 grams of carbs per serving. You'll need:
1/2 cup salted butter, softened
2 teaspoons fresh minced garlic
1 tablespoon Creole seasoning
Four 6-ounce lobster tails, butterflied
In a small bowl, mix the butter, garlic and Creole seasoning with a fork until blended. Set the Creole butter aside, and keep it at room temperature.
Heat the grill to about 400 F. Place the lobster tails meat side down on the grill and cook for about 3 minutes. Turn the lobster tails over and generously brush the Creole butter on top. Grill the tails for another 3 to 4 minutes or until the meat is opaque and cooked through. Serve the grilled lobster tails immediately. You might pair these tails with grilled veggies like zucchini, bell peppers, asparagus or eggplant for a complete mouthwatering Keto meal.
Buy Lobster for Your Keto Meals at Maine Lobster Now
Lobster is a perfect addition to a Keto Diet. It's luxurious, delicious, versatile, nutritious, and free of carbs. Plus, a lobster is super easy to cook. At Maine Lobster Now, we make it even easier to enjoy a Keto Diet packed with lobster and other seafood favorites. Simply select your lobster, schedule a delivery date and wait for your package to arrive overnight from Maine. We buy our lobsters directly from local fishers to give our customers the highest quality lobster they can find. Browse our website to shop for fresh Maine lobster today!