An outdoor Maine lobster bake with friends makes for a laid-back, memorable evening in the summertime. Is there anything better than delicious food and good company? We definitely don't think so. The best part is that it's easy to prepare and clean up, but looks and tastes like a gourmet endeavor. It doesn't matter where you live in the U.S., Maine Lobster Now can deliver lobster caught right off of the Maine coast directly to your doorstep.
Hosting a Maine Lobster Bake
A traditional lobster bake is steamed in a pot with seaweed and an assortment of other proteins, vegetables, and spices. This can be done over a fire in the backyard or on the beach, or on the stovetop at home. Because it only requires one pot, it is really easy to host a Maine lobster bake wherever you please. These are the steps to follow and some things to consider as you make your plans.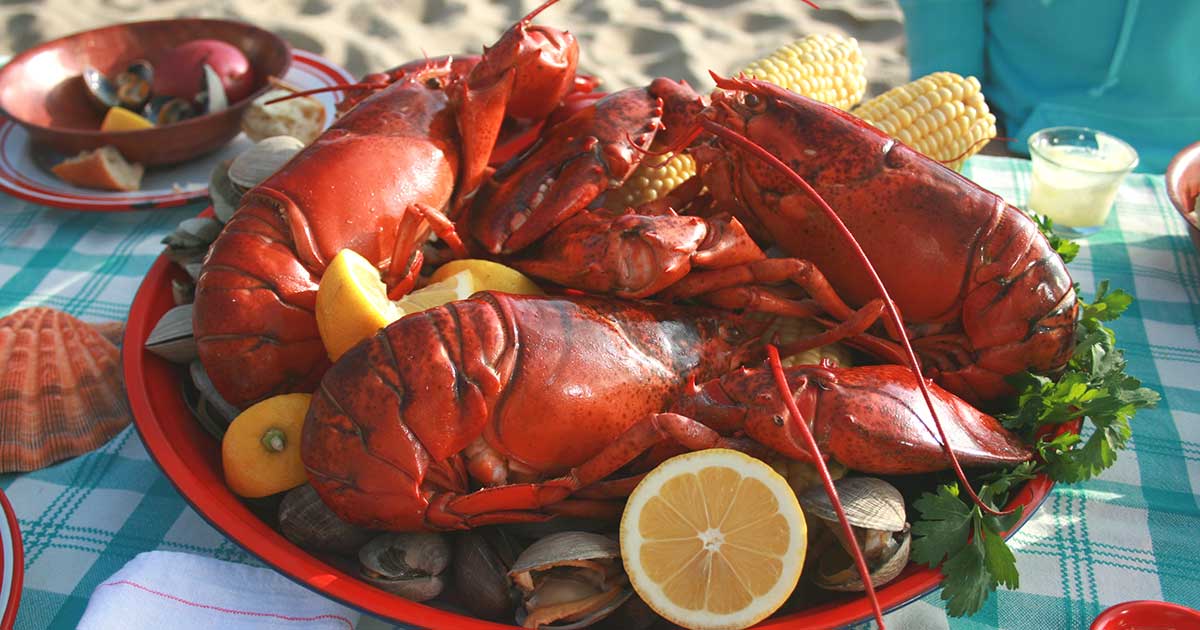 Choose the Menu
Lobster and seaweed are staples for a lobster bake. Next, you need to decide what else you would like to include. It's entirely based on preference. You can incorporate other favorite seafood items, like clams or mussels. Corn and potatoes are traditional additions as well.
If you haven't ever done this before, no worries. It's easy. Check out this recipe if you want to cook your Maine lobster bake over the fire, or this one if you plan to use a stovetop. Once you have made a lobster bake once or twice, you'll be adding in other ingredients and your own spices in no time.
Because of the assortment of ingredients, a side dish usually isn't necessary. However, if you want some, a fresh green salad or bakery rolls pair perfectly.
Bonus Tip: A refreshing summertime beverage is an excellent thing to consider serving with your lobster bake. An India Pale Ale or Chardonnay pairs well with seafood, as do pre-mixed drinks such as a non-alcoholic blend of iced tea and lemonade or a classic Mojito.
Source Ingredients
Make sure you have everything you need the day before the lobster bake. You don't want to be scrambling or sending anyone on last-minute errands the day of. As far as the lobster goes, you can use fresh-caught live lobster or lobster tails for a lobster bake. Either work well. We suggest getting your seafood ingredients as fresh as possible. Maine Lobster Now can overnight everything you need, including seaweed, Maine-grown corn, and red potatoes. Frozen lobster tails are the best option if you are purchasing from your local market. Otherwise, you never know how long it has been sitting around. If you have any other questions about handling or cooking lobster tails, you can take a look at your lobster cooking guide.
Send Out Invites
A classic New England lobster bake can be as informal or formal as you would like. The preparation and cooking are so easy that it can be fun to put that extra effort into the other details. Sending out invitations can be one way to do this. Etsy is a great place to find invitations that are unique to your personal style. You could even get creative and make some of your own on Canva, then have them printed out at a local shop.
Photo and invitations by WestieCrew on Etsy
Set the Table
The table and decor are other areas where you can have some fun. That is if you want to. There is absolutely nothing wrong with keeping things simple. However, if you want to have a little extra fun, a striped table cloth, red checkered napkins, or even some fishnet accents can really bring "New England" right to your table in the summertime.
Meal Prep
Make sure all of your ingredients are on hand the day of the lobster bake. Next, prepare all the ingredients a few hours in advance. Make sure the lobster and other seafood ingredients are thawed if you bought them frozen. Cut up any vegetables, like corn and potatoes. About an hour before guests arrive assemble the bake in your pot. Once guests have arrived, you can throw the pot on the stovetop or fire and enjoy time with your guests while you wait for it to cook.
Have Backyard Games Ready
You want to start the actual cooking process while guests are already present. This ensures that everyone will get to enjoy the food when it is hot and at its most delicious. Have some games ready for guests to enjoy while the lobster bake cooks. The cooking only takes about an hour and it really doesn't require much work on your part. This is a great time to pass out drinks and socialize. Backyard games like croquet, cornhole, or horseshoe are easy to set up, require little space, and are great for socializing.
A classic New England lobster bake is a wonderful way to revel during the warmer months. Who knows, it might even become a new tradition for you and your family. So soak it up and enjoy the food, company, and sunshine!