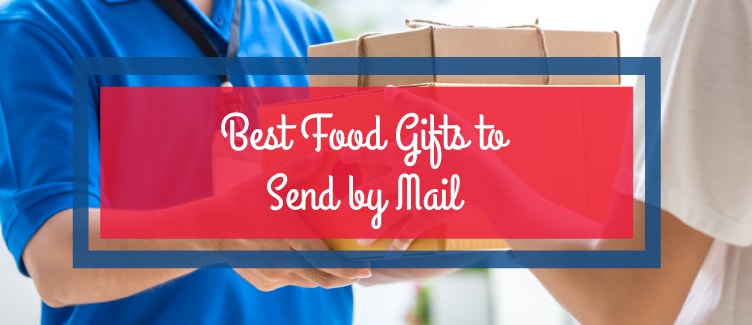 Of the many gifts, you could give to someone, high-quality foods and beverages like beer and wine are among the few that won't make its way to the trash can or donation pile. Since eating is a necessity and tasty treats are always desired, food can be an irresistible gift that everyone appreciates. Delicious foods and drinks are also great for all occasions — birthdays, holidays, anniversaries, promotions, congratulations — the list goes on and on. Our Top 6 Food Gifts To Send in the Mail:
Not only can many perishable foods and beverages be sent via mail, but most companies with an online presence also have shipping options available to save you the hassle of having to package the gift and deliver it to the post office yourself. This allows you to send your friends and family members housewarming presents, get-well-soon treats and many other food gifts for any reason imaginable. You want to give an amazing gift and Maine Lobster Now wants to help. We've compiled a list of tasty foods that we believe will make unique and irresistible gifts that you can easily send from coast to coast.
A Gift Sure to Uncork Appreciation
Maybe you've heard it through the grapevine — people love wine. Americans enjoy hundreds of millions of gallons of wine each year. From vermouths and cabernets to dessert and sparkling wines, wine is a great choice for corporate gifts, special occasions or just because. No matter who you're showing appreciation to, wine gift baskets are sure to please. For the wine lover in your life, head over to Gift Tree and choose from their fabulous selection of wine gift baskets. Send the Royal Treatment to celebrate a promotion. Gift a bottle of luxury champagne to celebrate an anniversary. With plenty of wine options that come paired with cheeses, meats, fruits, and nuts, there's a perfect wine gift set for everyone. For a gift with a more personal touch, you can send single bottles that feature your own custom label or engraving design. Personal Wine makes it effortless. Simply select the wine you wish to send — red, white, rosé or sparkling — then customize the label with text and photos in their design template. In as little as three days, your custom gift can be enjoyed.
The Gift That Really Is the Big Cheese
Trust us — this is one cheesy gift that anyone will love. Straight from the Dairy State, Wisconsin Cheese Mart has award-winning cheeses that are great mail-order food gifts to share with those close to your heart. Their impressive selection features over fifteen types of cheese in earthy, pungent and spicy flavors. From curds and small batches to wheels and loaves, these different cheese gift baskets make excellent gift ideas for coworkers, friends, and family.
With an array of options, Wisconsin Cheese Mart is sure to have a cheese package that's perfect for any taste. Those who are strict cheese aficionados will enjoy the Nibbler crates which feature sharp, earthy, flavored, buttery, smooth, creamy or mild cheeses. Add some meat to the mix with a cheese and sausage sampler that may include tangy, smoky or creamy sausages. Whether you choose the Sweet Treats cheese board or the Wisconsin Artisan Award Winners package, these cheeses are fantastic gift ideas.
A Sweet Treat That's Healthy to Eat
When you think of the typical gifts for holidays like Valentine's Day or Mother's Day, chocolate immediately comes to mind. As more and more people are becoming conscious of their diets, however, sugary sweets may not be the perfect gift for everyone. If you'd like to send a healthy snack that will put a smile on anyone's face, gift them a lovely package of fruit. Harry & David is your destination for fruits and other gourmet gifts. Choose from a variety of seasonal fruits, dried fruits, organic fruits and more. All of their juicy offerings were picked at the peak of perfection to ensure that every basket, box and tower of fruit you send are ripe and ready to eat. Don't worry — if you're sending a gift to someone with a sweet tooth, Harry & David's selection of delectable pears, citruses, berries, and cherries can be paired with other scrumptious treats. Choose strawberries dipped in chocolate or have the apples coated in caramel. Bundle together a tasty trio of apples, pears, and cheeses. You can even send a creatively curated gift tote full of fruit, bread, olives, cheese, wine, nuts, spreads and so much more. With free shipping available, Harry & David's fruit baskets make the sweetest gifts.
You Can't Beat Meat
If you really want to outdo your gift-giving this year, send a smorgasbord of other meats to accompany your fresh Maine lobster. Picture your father-in-law, brother or a best friend enjoying a buttery lobster tail and a perfectly cooked tenderloin. When you combine the locally sourced seafood from Maine Lobster Now with a generous helping of steak, chicken or pork, your gift delivers phenomenal tasting surf-and-turf right to your friend or family member's door.
A Bounty in a Basket
Unsure of which food or beverage would be the perfect gift — let an expertly curated gift basket help you decide! GourmetGiftBaskets.com has assembled exceptional gift baskets that feature foods and beverages made with the highest quality ingredients. Each basket contains handpicked items that together create a gift catered to every occasion. Whether you're trying to find that perfect holiday gift or want to show someone you care on their special day, these unique gift baskets will light up the life of everyone you love.
A Gift That Keeps on Giving
Is there someone special in your life that you want to spoil? Instead of sending a single food item or gift basket, consider purchasing a subscription service so that you can treat them for weeks to come. There are dozens of vendors that will deliver both fresh and packaged foods to homes around the country. Whether you want to stick with a particular item or provide your recipient with a unique meal on a regular basis, a subscription service is a perfect gift that caters to any taste.
A Taste of the Sea
If you truly want to surprise a friend or family member with a gift like no other, it has to be a fresh, hand-selected seafood dinner. Maine Lobster Now ships our locally sourced Maine lobster from the fisherman's net straight to our customer's front door. Our fresh and frozen lobster meat turns any recipe into an unforgettable dish. We can even ship live wild-caught lobster that is guaranteed to arrive alive at the door of your colleague who takes pride in preparing five-star quality meals for their family. Jumbo lobster tails, gourmet lobster mac and cheese and homemade lobster rolls — if it's got 'lobster' in the name, you know it's going to be a great gift. When the special someone you're shopping for just can't get enough seafood, Maine Lobster Now has you covered. We've got a boat-load of other savory options including crab, fish, sea scallops, shellfish, soups, chowders, appetizers, side dishes and desserts. One bountiful box from Maine Lobster Now is guaranteed to bring the taste of the sea right to their kitchen.
The beauty of seafood is that it can pair well with virtually any other food gift. Imagine the wide smile stretched across your mother's face when she opens up a box of fresh crab legs with a fine bottle of wine. Think of the joy your good friend will experience when you give them a fresh package of Maine lobster tails and salt water taffy so they can have the inimitable taste of New England seafood no matter where they are.
You Can't Go Wrong With the Gift of Food
Why should you choose to send mail-order food as a gift? Sending a gift shows that you care. The time, energy and effort needed to select the perfect gift that arrives right at their doorstep are not lost on the recipient. Although every gift takes consideration, choosing a food gift also demonstrates how well you know the person. For instance, if you can find a gluten-free vegan pizza kit for a friend with severe dietary restrictions, that level of personal detail will speak volumes. How far in advance you send your gift depends on shipping estimates provided by the retailer sending your gift. If you're shipping the gift yourself, ensure each type of food is delivered appropriately. For example, the USDA suggests that raw meats and soft cheeses receive overnight shipping. Perishable foods, like bread, fresh fruit and other baked goods, should receive two-day shipping. Nonperishable items like candies or alcohol can be sent via regular mail. Also, confirm that your recipient is available to accept the gift on arrival. Gift giving is a great experience and sending an irresistible food gift by mail is a great way to express your friendship, love, congratulations or gratitude to those in your life. Maine Lobster Now admires the sincere thought and care that goes into finding the perfect gift and we want to help make your gift truly unforgettable. Our fresh seafood bought daily from Maine's local fisherman is a unique and exciting gift that is ideal for any occasion. Delicious Maine lobster meat is a mouthwatering gift that will please every stomach. A box of our crab legs, lobster tails, scallops, and desserts turn an unbelievable gift into an unforgettable meal. Contact Maine Lobster Now today and let us put together the perfect gift package that will be impossible to top!