For International Women's Month, we set out to find delicious seafood that comes from sustainably sourced, women-run businesses. We didn't have to go far to find Amanda Moeser, owner/operator of Lanes Island Oysters. Her oysters blew us away and her insight into the fishing industry and sustainable aquaculture is second-to-none.
Amanda sat down to talk to MLN about being a woman in the fishing industry, finding solace in oyster farming, and the importance of good butter.
MLN: How did you get into Oyster Farming?
Amanda: I started my business five years ago. Before that I worked, processing mussels for Bangs Island Mussels, which I saw you have on your website. So I used to work in their processing shop. I also built oyster reefs and ran a community Western gardening program for a conservation organization. With my experience I was ready to have my own business, so that's why I started Lanes Island Oysters.
MLN: Are you from Maine originally?
Amanda: I grew up in the Midwest actually.
MLN: What brought you to Maine and sparked your interest in the ocean and aquaculture?
Amanda: It kind of, really, was an ex boyfriend and my educational background. Yeah, I have a bachelor's in fish and wildlife ecology in conservation biology. And I'm working on my PhD right now.
MLN: Oh, wow. What's your PhD focusing on?
Amanda: I'm researching the distribution of access and benefits in small scale Fisheries and Aquaculture in Maine. So looking at gender and racial equity in the industry as well as existing barriers.
MLN: You're breaking down barriers yourself with your business and the small-scale farming techniques you use.
Amanda: Yeah. I do use natural farming methods and try and reduce my impact as much as possible. It is sustainable. Like, I grow them on the bottom of the ocean, how they naturally grow in the wild, and I pick them by hand. I touch every oyster that goes out. And one of my favorite things about my product is that no two are the same. Typically oysters are handled and tumbled through processing equipment so they're the same shape, like a golf ball. That's nothing what they look like in the wild, right? In the wild they're all different in shape and size. So I like to keep mine that way.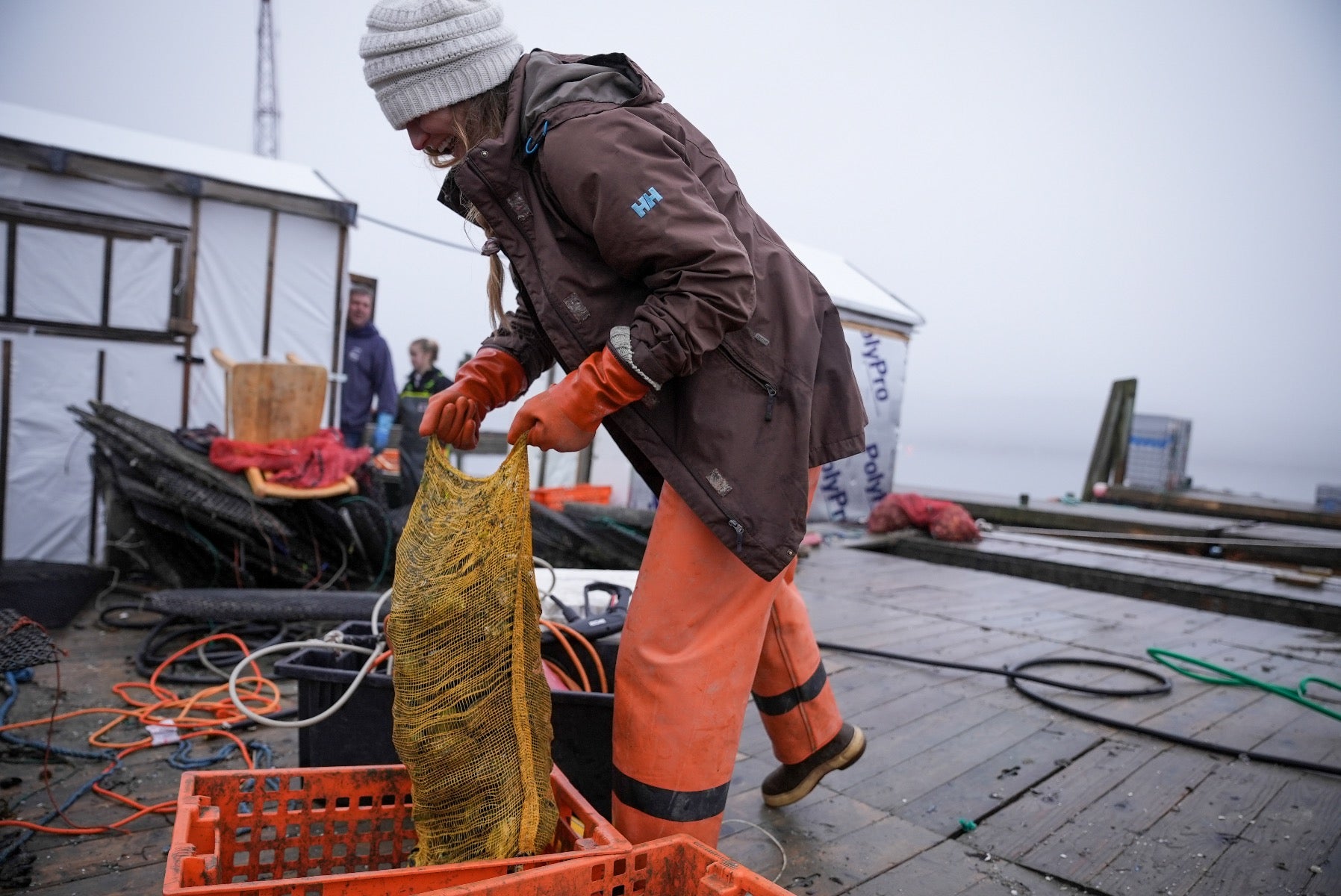 MLN: I love that. You have a real connection to your product. What is it like being a woman in this industry?
Amanda: Well, I guess just backing up, that's actually a common myth, that there aren't a lot of women in the fishing industry. It's something I'm actually trying to bust through as well with my PhD research. People say that it's a male dominated industry–very male and patriarchal, but through my academic research and personal experience, I've found that there are SO many women involved in aquaculture and fisheries. When you look across the value chain from pre-harvest work, processing, and distribution there are even more women involved than men, really.
MLN: Why do you think that myth persists?
Amanda: Yeah, across the world, more women grow and harvest shellfish than men. Right? Like hands down. This is women's work in every part of the world. It's just because women's work and labor is traditionally under recognized, undervalued, and underpaid.
MLN: Good point. As you know, our big initiative right now is to highlight women like you who farm and fish locally in Maine. What is it like to know that customers beyond Maine will be able to enjoy your oysters for the first time?
Amanda: This is the first time I think that they're being shipped outside of Maine. It's hard to picture, but I would love to hear what people have to say and what they think of them. I usually sell through a distributor so I never, you know, hear directly what customers think. My friend Emily, one of her favorite things about her business is hearing people's responses. I like the idea of having more of a connection and knowing how people are eating and enjoying the oysters that I grow. I'm really excited about that.
MLN: I'm sure we can help get some of that back to you. So, you're the expert. What are your favorite ways to eat oysters?
Amanda: A lot of people enjoy them raw on the half shell. That's good, but you can also grill them. That's great for first timers especially because you don't have to shuck them. When you grill or steam them the shell naturally pops open when they are done. If you steam them you can use the broth left over as a chowder base. My favorite thing is to go pick my own oysters, mussels, and clams, and then I just steam them all together and then– butter, butter, all the butter. I saw that you also sell Kate's butter right?
MLN: Yes we do.
Amanda: Yeah, that's awesome. That's the brand I like. So Kate's butter and then lots of fresh herbs.
MLN: Any specific fresh herbs or just anything you have on hand?
Amanda: Anything you have on hand.
MLN: Great tip. Last question. What is your favorite thing about doing this work in Maine?
Amanda: Yeah, my favorite thing about doing this work is being out on my farm alone. It's located just off an island in the middle of Casco Bay. I just especially love in the summer when I'm out for multiple days in a row. I love the quiet and solitude, and I really love the physical labor of it all as well. And I'm not like a lot of people who fish or farm from a boat here–they never get into the water. They think I'm crazy. But I like to work in the water. I just wear a wetsuit.

In the winter there is even more solitude. I typically get dropped off at my farm by someone else because the river where I keep my boat freezes up. I get dropped off on the island before low tide. Then I wait for the tide to go out and I pick all the oysters as the tide goes out. Then that night I bag them up and tie them to a buoy. And then my ride comes and picks me up like eight hours later. It feels dangerous being out there alone like that sometimes. It is dangerous. But I love what I do.

MLN: A lot of women will see your story and really appreciate hearing it. I know I do, so thank you for sharing it and taking the time to talk with me.
Amanda: I hope they're inspired. I hope they realize that there are a lot of us out there working in this industry. Women make most of the food purchase decisions as well so there's already a natural connection and alignment there. I hope they love the oysters. They are unique animals, and I just really hope they enjoy them as much as I do.