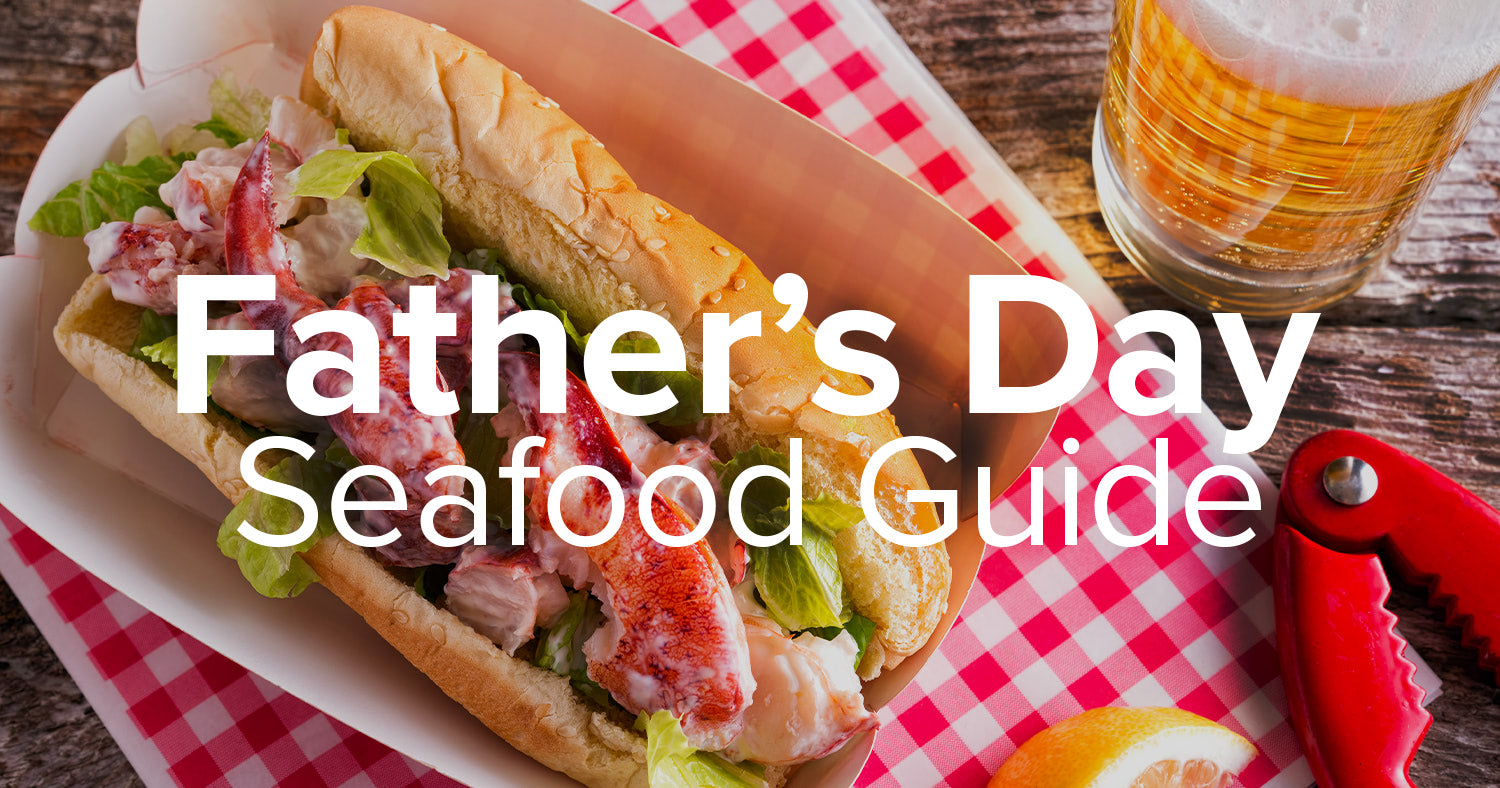 As they say, "The best way to reach a man's heart is through his stomach." This Father's Day, show Dad how special he is with some extra special food! If your dad loves seafood, browse our Father's Day seafood gift guide for plenty of inspiration Dad would love to get his claws - err hands - on.
This year, you can give Dad a gift that fights back with any one of our fresh live lobsters. Looking for a relaxing Father's Day with less prep? Grab our all-in-one lobster roll kits. What if he's a red meat kind of guy? We may be Maine Lobster Now, but we sell premium Black Angus steaks normally reserved for Michelin Star dining, and they make a helluva surf n' turf dinner. Take a look at our full offering in the Father's Day seafood gift guide below.
Father's Day Seafood Gift Guide from Maine
Whether your dad enjoys being the chef, or you want to treat him to a home-cooked meal, a fresh seafood gift of Maine Lobster Now is sure to leave a lasting impression.
Fresh Live Lobster
Ranging in size from 1 to 20 pounds each, our live lobsters provide both a fun cooking experience and a delicious New England-style meal. We ship our live lobsters overnight, ensuring they arrive alive, fresh, and ready to cook. For more information about cooking live lobster, you can take a look at our lobster cooking guide.
Lobster Tail
If you think it's best to leave the live lobsters to the professionals, our Lobster Tails are the perfect alternative. Whether you plan to spend less time in the kitchen and more time relaxing in the backyard, or are just looking for an appetizer to go with the main course, our fresh lobster tails might be right for you.
Black Angus Steaks
If you want to treat Dad to a special Father's Day meal, plan a one-two punch of seafood and red meat with a classic surf n' turf dinner. We offer the seafood and the red meat for this fan favorite. Choose from premium Black Angus boneless rib-eye, prime filet mignon, or prime Black Angus strip steak. You can even throw everything on the grill when you follow our how-to guide for grilling lobster tails.
Lobster Roll Kits
If you or your dad aren't the most adventurous types for the kitchen, let us do the heavy lifting for you. We offer full lobster roll kits that come with all the ingredients to make enough for 6 lobster rolls, including a pound of juicy cooked lobster meat, rolls, mayo, butter, and Fox Family brand potato chips on the side.
Bacon-Wrapped Scallops
Try bringing a different kind of "surf n' turf" to the party with sea scallops wrapped in succulent bacon. Our premade appetizer features thick-cut bacon hugging buttery scallops. They're so good they might just spoil the main course. Be sure to browse more of our selection of seafood side dishes as well.
If your dad, or the entire family, are a bunch of aspiring seafoodies, make sure to have the basics on hand. Order butter warmers, shell crackers, and even picnic-style decorations for the table, like checkered napkins.
Suggested Father's Day Lobster Recipes
Maybe your dad wants to do the cooking himself, or you plan to treat him to a nice homecooked Father's Day meal. Check out these chef-prepared meal ideas, as well as tips and tricks for cooking your seafood at home.
Related Articles:
Treat your dad to any one of these items from our Father's Day seafood gift guide this year. No matter who cooks the meal, and whichever seafood ingredients or supplies you give him, a New England-style dinner with the family is sure to be an experience no one will soon forget.
Happy Father's Day!