Authentic Guacamole with Jonah Crab Claws
Let's be honest, everyone loves a good party dish. It brings your friends and family together and it's one thing that everyone can actually agree on: tasty food is never a bad thing. There is a strong difference, though, in coming up with a year-round party-pleasing plate and a memorable party-pleasing plate. That one plate you make at any time of year, where they can say, "Oh yeah! I'm so pumped [Insert Your Name] is bringing their signature dish to our potluck!"
That's the kind of feeling you want to achieve. You: bringing the life of the party. How is this achieved? Through food, of course. Let us rephrase that. Through seafood, of course.
Alright, alright, let's cut all the rambling and dive straight into this Guacamole with Jonah Crab Claws recipe.
The foundation of this dish is...say it with me now...GUACAMOLE. We are sure many of you know how to make this already, but in case you don't (or just want some authentic guidance), here's how we will put it together.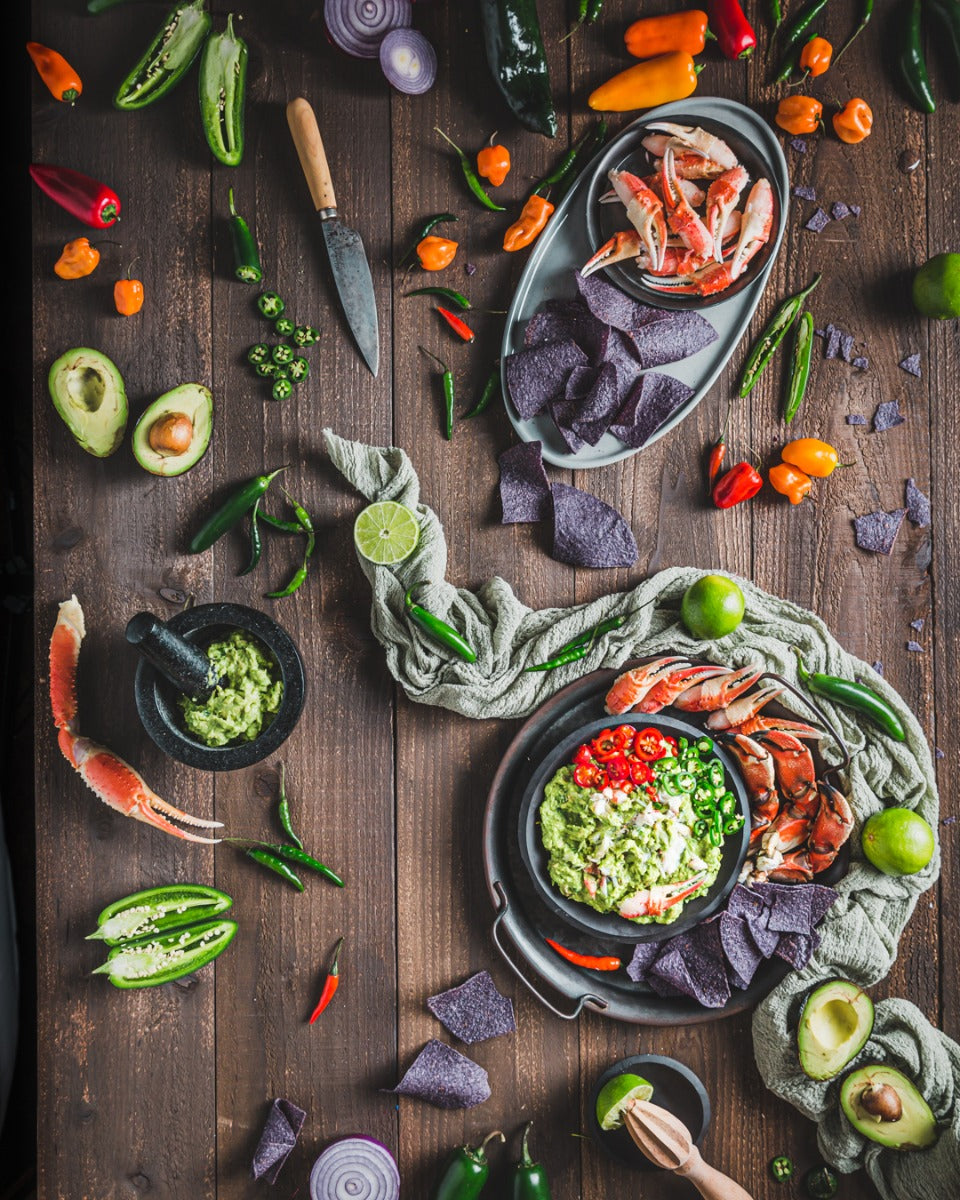 Ingredients:
4-6 avocados. Not fully ripe, you can sort of squeeze them in your hand. (Obviously if you need to make a lot, buy MORE avocados).

1/4 cup of red onion. A white onion will also do the trick.

2-3 tomatoes. Roma or vine tomatoes for this...not grape or cherry tomatoes.

1/2 cup of cilantro.

2 large limes.

2-3 serrano chiles or jalapenos (not required).

1/2 tsp of salt.

1/4 tsp of pepper.

1/4 tsp of garlic powder.

1/4 tsp onion powder (for extra onion flavor, again, not required).
Directions:
Slice the avocados in half and remove the seeds.

Scoop the inside of the avocado into a large bowl.

Dice your tomatoes, onion and chiles up. Throw it all into the bowl as well.

Tear off the cilantro from your bundle and add it into the bowl.

Use a spoon, fork, whisk or masher to mash down the avocado and other vegetables until it all blends well together.

Once it's all blended well, add in your seasonings to your liking! Mix that in. Don't be shy, folks.

After it's all mixed in, cut a lime in half and hand-squeeze it over the bowl of guac. Mix it in gently.

Voila! Your authentic guacamole is ready to roll. Congrats.

Next, is the accompaniment to this awe-inspiring guac you just hand-crafted: the Jonah Crab claws.
Lucky for you, Maine Lobster Now's Jonah Crab claws arrive already-cooked and flash-frozen. They just need to be thawed out and the claws cracked! Simple enough, right? Here is a crab shell cracker if you need one.
Now, all you must do is place your guacamole bowl onto a party platter dish and neatly place the gorgeous Jonah Crab claws around it, as well as some tortilla chips if you would like. Make it fun and pretty-looking, after all, you want this to be a presentation for your loved ones (even though everyone will absolutely devour it).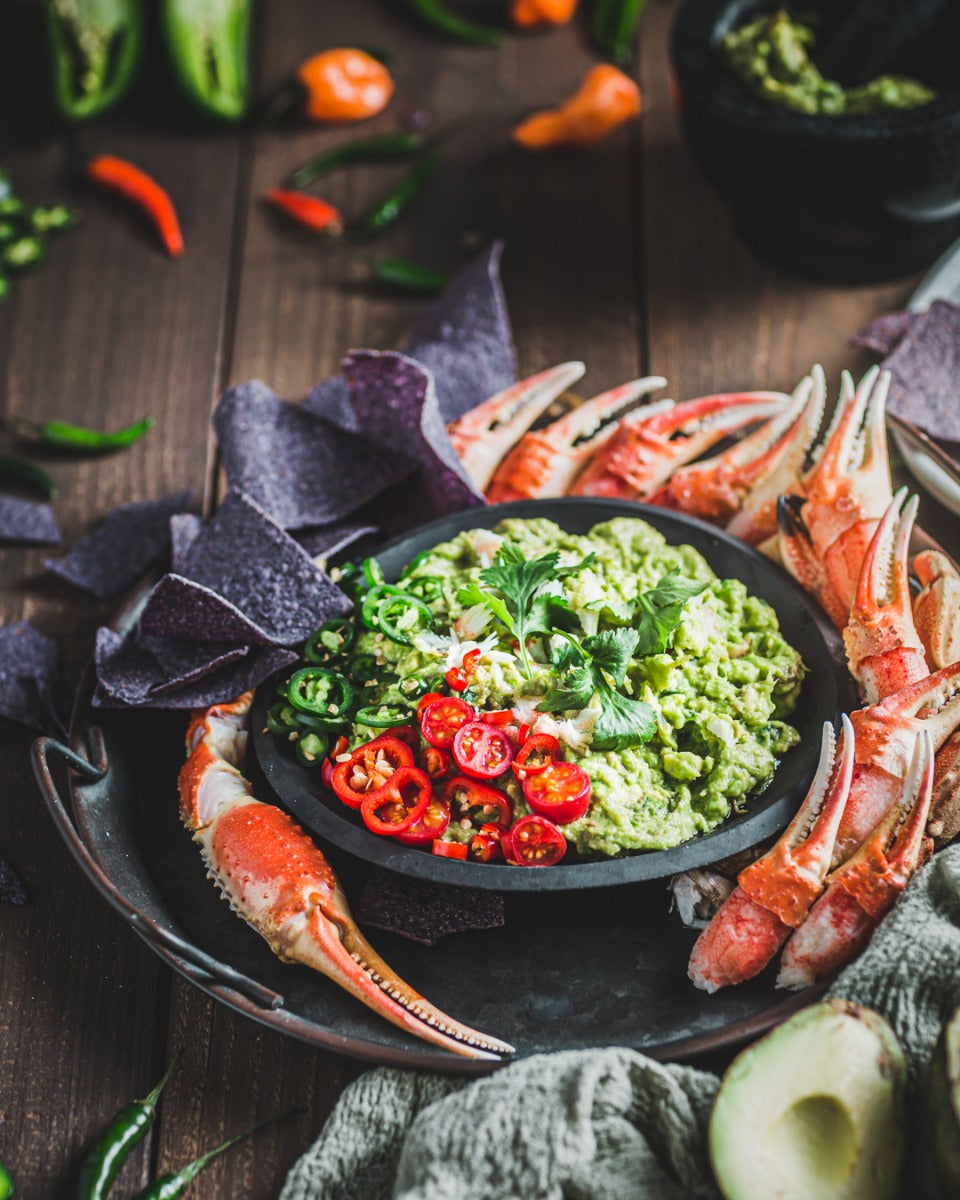 Not only will this dish be a show-stopper, but you can get creative and try other seafood pairings with this guacamole as well! Let's name a few for you:
In conclusion, with this recipe, YOU will be the talk of the party. Hands down. As for another life lesson to throw at you: Food = Love. This is the simplest and best equation to live by. Every single day.
What other seafood favorites do you bring to a party? Let us know on our social media channels and use #MaineLobsterNow so we can find you and feature your dishes!
Follow us on social:
For more recipes and how-to's, visit our YouTube channel (and subscribe please)!