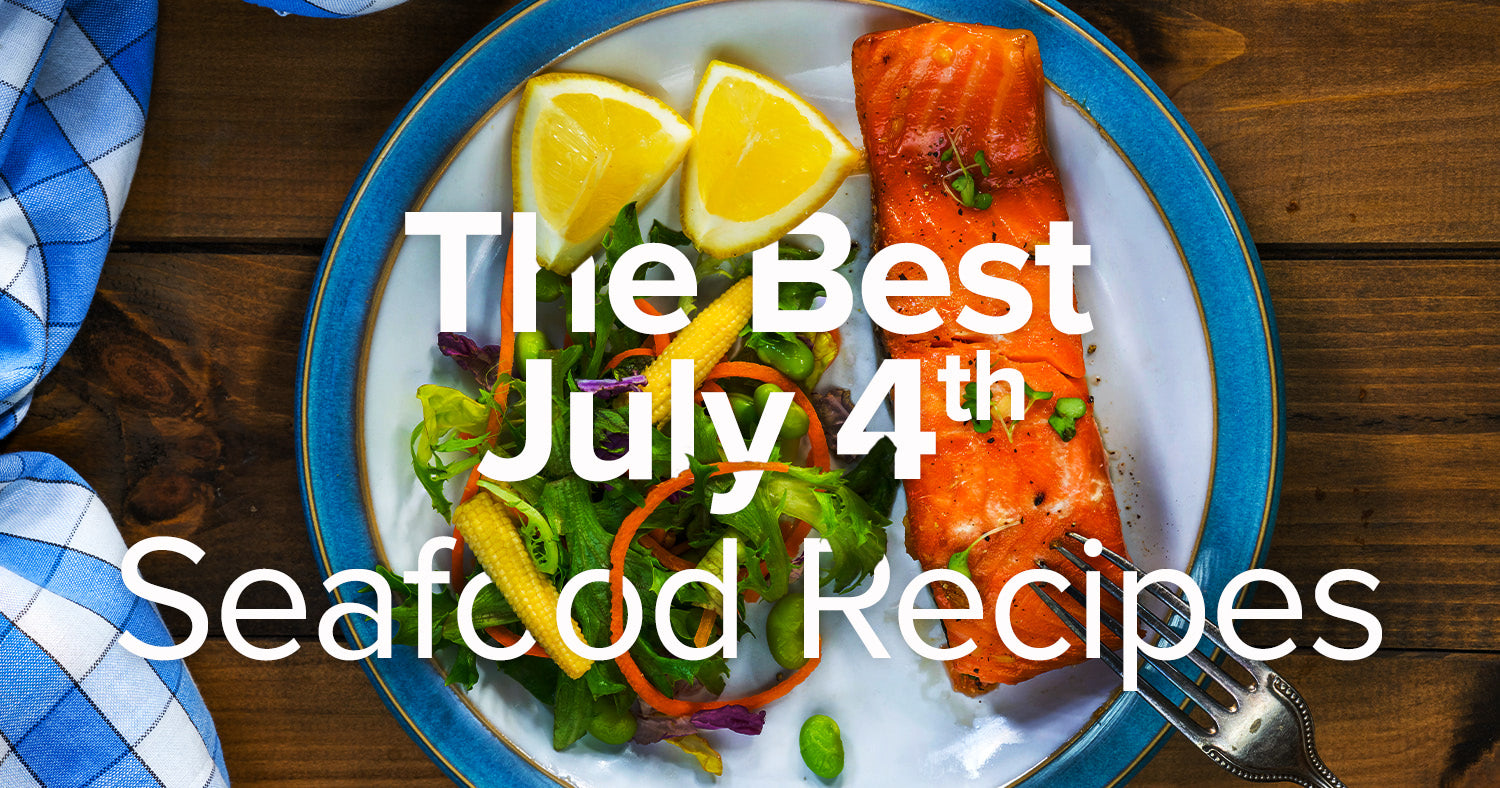 Francis Scott Key wrote, "The land of the free and the home of the brave." But with July 4th grilling coming up, we're thinking more about "Land of the free (shipping)." As freedom rings, let your grill sing by adding some truly delicious entrees to your 4th of July celebration. If you're gathering friends and family together, or just having a simple backyard BBQ with the fam, these July 4th seafood recipes will explode with flavor, like tasty fireworks in your mouth.
These July 4th seafood recipes will have you cooking up a storm with grilled clams, grilled salmon, grilled scallops, and much more. When you spend $100 or more on your seafood order, shipping is free with Maine Lobster Now.
The Best July 4th Seafood Recipes
Credit: Linda Pugliese
While a standard lobster bake is cooked in a pot over an open flame or on the stovetop, this camping recipe calls for the grillmaster to really test their skills. It's the perfect recipe for prepping before you go on a camping or hiking trip. You can put all your ingredients into an aluminum foil packet and simply throw the food packet on the grill when you're ready to cook them.
Credit: Hector Sanchez; Styling: Linda Hirst

This recipe calls for cherrystone clams that are larger than normal littleneck clams found more commonly. But the payoff is that the meat takes longer to cook and thus is able to absorb much more of that smokey flavor from the grill.
Credit: Jen Causey; Food Styling: Margaret Dickey, Rishon Hanners; Prop Styling: Sarah Elizabeth Cleveland
The key to this recipe is allowing the oysters to warm slowly over the fire so the butter has plenty of time to soak into the briny seafood. Those flavors mix perfectly with the smokiness of the grill for a taste that'll have your taste buds singing.
Credit: Greg Dupree; Styling: Lindsey Ellis Beatty

Tacos get an upgrade thanks to this super-easy, 30-minute meal idea perfect for weeknights after work. The smashed avocado and charred corn perfectly complement the buttery sweetness of the scallops.
Stuffed mushrooms can be an incredibly versatile food. This seafood recipe really pulls out all the stops with grilled crab and Italian fontina cheese that will have your mouth watering from the moment you start prep.
Credit: Becky Luigart-Stayner; Styling: Cindy Barr

Summer gets a sweet and citrusy update with this recipe that mixes maple syrup with orange juice to create a sweet and sour glaze to brush over salmon (it's said to go well on pork dishes as well). The biggest time-consuming step here is creating the marinade and letting the salmon sit in it for 3 hours.
This recipe changes up your normal salsa verde for a sweet honeydew-avocado one. Add that over buttery, mouthwatering scallops and you're sure to find a new favorite dinnertime meal. This delightful meal takes just 30 minutes to make.
Credit: Anna Williams; Styling: Pam Morris

Spanish flavors take over this dish that relies on smoking hickory wood chips while you char everything else on the grill. The spicy chorizo really pairs so well with the clams.
Maine Lobster Now Seafood Preparation Guides
If you're looking for simpler recipes and ideas to throw on the grill or in the oven, take a look at our step-by-step guides below for easy directions to grill and bake lobster, grilling crab legs, and baking haddock, all perfect for a summertime meal.
Feel the freedom when you spend $100 or more and get free shipping on your order. Happy Independence Day from all of us at Maine Lobster Now.