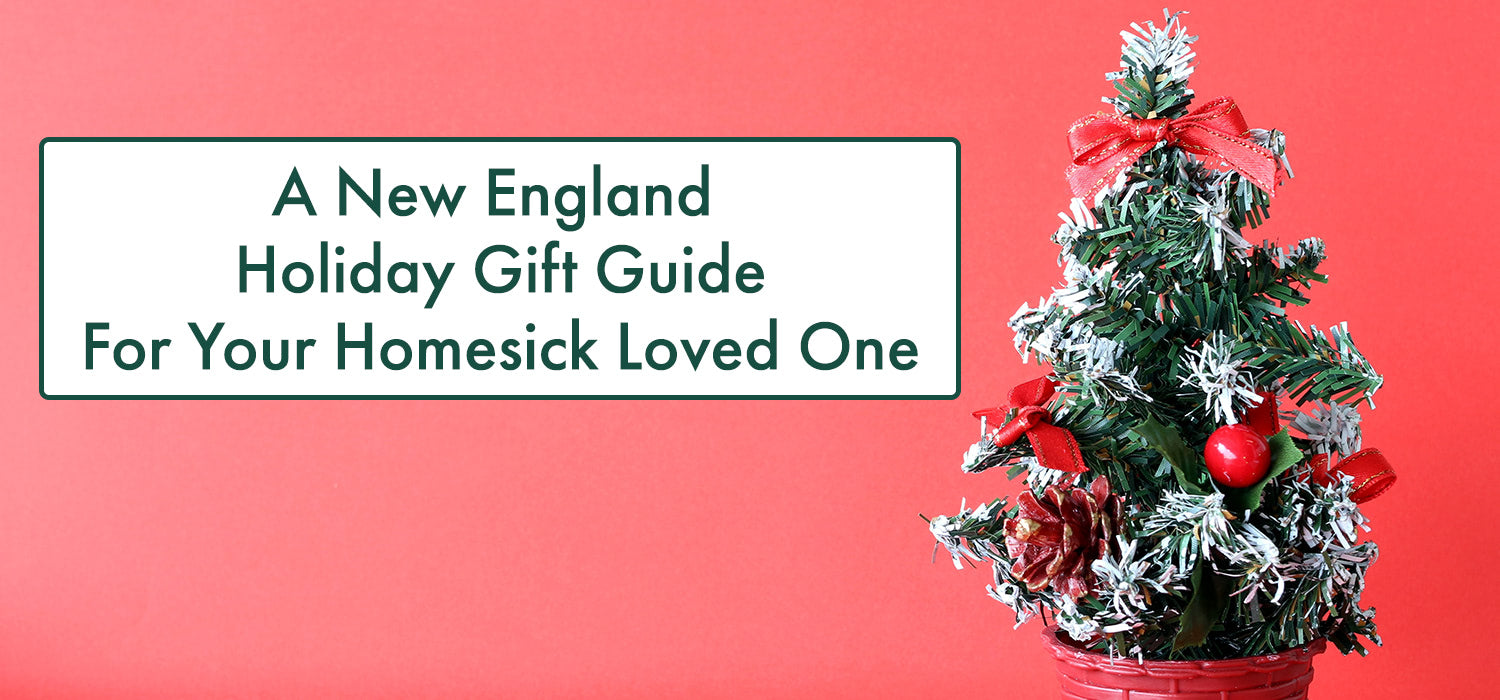 'Tis the season to be jolly! With the joys of the holiday season comes the brain-twister of choosing the best gifts for your loved ones. Make choosing the right gift for your homesick New Englander easy with our collection of "wicked pissah" New England staples.
New England — comprising Maine, Vermont, New Hampshire, Massachusetts, Rhode Island and Connecticut — holds a deep-rooted culture of various foods, symbols and handmade crafts that make memorable gifts. Get your gift-list out and consider these New England favorites for your loved one:
1. New England Coffee
New Englanders take their coffee very seriously. In fact, one of the most well-known coffee brands, Dunkin' Donuts, started in Massachusetts! Their original location — located in Quincy, Massachusetts — is still open for consumers to reminisce on the company's roots and original holiday coffee flavors.
Aside from Dunkin' Donuts, New England is home to other well-loved coffee companies, both large and small. Most sell seasonal coffee products, like peppermint bark and snickerdoodle flavors, which you can gift to your loved one as a stocking stuffer, part of a coffee-lover gift basket or adorned with a holiday bow.
2. Vermont Maple Syrup
Taking inspiration from the United State's northern neighbor, Vermont is known for their maple syrup and other maple creations. They're so passionate about their craft that they've dedicated an organization for all-things maple — the Vermont Maple Sugar Makers' Association (VMSMA).
The VMSMA is a congregation of Vermont maple sugarmakers devoted to producing and sharing the world's highest-quality maple syrup. Browse their extensive list of maple-makers throughout the Vermont area, which you can order online or find at a location nearest to you.
3. Clothing and Other Memorabilia
Become a tourist in your own town and visit your local New England gift shop, where you can find memorabilia like:
T-shirts and sweatshirts

Hats

Magnets and stickers

Bumper stickers

Postcards

Novelty books

Throw blankets
What does your loved one like? If they're a magnet collector, you can include a New England magnet — like in the shape of their favorite state or the beloved maple leaf — as a stocking stuffer. Or, if they're a sticker enthusiast, consider including stickers with their holiday card. You have plenty of options to customize your gift to your loved one!
4. Handmade Crafts
New England homes many talented artisans, from woodworkers to mapmakers, that handmake crafts like:
Maps, detailed with well-known landmarks.

State-shaped wall hangings.

Scenic paintings.

Wood signs.

Pottery.

Jewelry.
Shopping local for handmade crafts supports these artisans, too. You can find these handmade crafts in popular downtown areas or artisan fairs and festivals often held during the holiday season.
5. Holiday Tree Ornaments
Many families collect holiday tree ornaments. If your loved one is a member of these ornament-collecting families, gift them a collectible New England ornament, designed to represent New England symbols like:
The maple leaf.

Your loved one's home state.

A city skyline, such as Boston.
You can find homemade tree ornaments online or at most local craft stores. Some stores allow you to customize ornaments for your loved one, adding a personalized touch of home.
6. Self-Care Spa Basket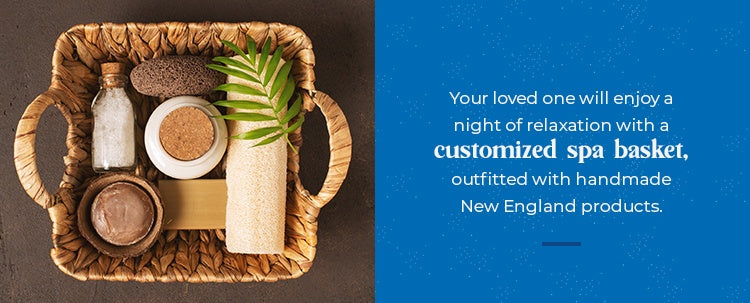 As the nights grow longer and the weather cools down, your loved one will enjoy a night of relaxation with a customized spa basket, outfitted with handmade New England products. In your basket, consider including:
Herbal lotions.

Scented candles.

Soaps, like the New England-favorite goatmilk soap.

Dried herbs and flowers.
You can find New England spa baskets online. Or, you can support local small businesses and hand-pick spa products that you know your loved one will like.
7. New England's Staple Sweet Treats
Who doesn't love a sweet treat every now and then? New England is known for their staple sweet treats, including the following:
Thin ribbon candy: Settlers brought over many European traditions, including the historical thin ribbon candy, which are well-known for their holiday appearance.
Maple candies: Naturally, New Englanders translated their love for maple into an assortment of maple candies that you can gift to your loved one.
Whoopie pies: New Englanders have enjoyed the whoopie pie dessert since the early 1900s, and it's now recognized as the official treat of Maine. They're typically found in vanilla and chocolate flavors and are sure to spark sweet New England dreams for your loved one.
If your loved one has an incurable sweet tooth, consider creating a sweet treat basket filled with these New England classics.
8. Crab Cakes
When people think of east-cost cuisine, many daydream about the savory taste of crab cakes. Crab cakes include staple ingredients like dijon mustard, crunchy panko bread crumbs, fresh herbs — and, of course, freshly caught Maine crab. Your loved one will enjoy the mouth-watering taste of New England in every bite!
9. Soups and Chowders
As the weather gets colder, long beach days transition to cozy evenings, headlining warm cups of soups and chowders. For New Englanders, clam chowder and Maine lobster bisque are common heartwarming delicacies.
Clam Chowder
New Englanders, namely those from Massachusetts and Maine, have perfected the clam chowder recipe — a savory recipe made of a cream base, broth, potatoes, onions and clams. Some recipes include added flavors, like bacon crisps, but nothing outshines the salty, savory taste of freshly caught Maine clams.
Maine Lobster Bisque
Justlike clam chowder, Maine lobster bisque is loaded with classic New England flavors. Quality Maine lobster bisque is slow-cooked with traditional flavors of lobster stock, cream, fresh herbs and locally caught minced lobster meat.
10. Live Maine Lobster
There's something especially heartwarming about a fresh, live Maine lobster for people currently or previously local to the New England area. Maine lobsters are typically sold by the pound or half-pound, delivered fresh to your loved one's door.
One of the best qualities of Maine lobster is its versatility. Your loved one can cook their live Maine lobster and enjoy it with delicious lemon butter. They can also practice their cooking skills and incorporate lobster meat in popular New England recipes, such as lobster mac and cheese and lobster rolls.
Gift New England's Finest Seafood Fresh to Your Loved One's Door
The Klenda family — the founders and the heart and soul of Maine Lobster Now — has dedicated over 30 years to New England's heartwarming seafood flavors. We've hand-selected locally sourced seafood, ranging from clams to our fan-favorite live Maine lobsters, that we'll deliver to your loved one's door just in time for the holiday season.
Browse our website to learn more about our seafood products. Place an order today and tell us what day you'll like your order ship, and we'll ensure on-time delivery. If you have any questions, consider contacting one of our friendly customer representatives. We'll be more than happy to direct you to the best gift for your loved one!